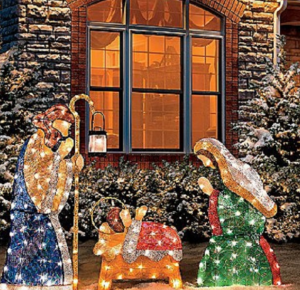 December 13, 2020
Once again, I (Maureen) see a Great Flame that I have come to know as the Heart of God the Father. He says: "Children, everyone's 'house' of personal holiness sometimes has temptation knocking at the door. The grace is always present to recognize this unwanted visitor. Sometimes, the owner of the house unwisely allows temptation in through thought, word or deed. The soul must be careful whom or what he associates with. If the soul is trying to advance in personal holiness, he will readily recognize the unwanted guest and usher him out. The soul must be very wise as to whom he allows into his house as sometimes the unwanted guest comes disguised in goodness."

"Make your house of holiness like a fortress of virtue. This is the way to advance quickly through sacrifice and prayer and to 'decorate' your house of holiness with deeper and deeper virtue. The deeper the soul is in virtue, the stronger his efforts to protect his house of personal holiness."

Read James 1:12+

Blessed is the man who endures trial, for when he has stood the test he will receive the crown of life which God has promised to those who love him.

+ Scripture verses asked to be read by be read by God the Father.

 

13 de Diciembre del 2020
Nuevamente veo una gran llama que he llegado a reconocer como el Corazón de Dios Padre. Dice: "Hijos, hay ocasiones en que la tentación toca la puerta de la casa de la santidad personal de todos. La gracia siempre está presente para reconocer a este visitante no deseado. A veces, el dueño de la casa insensatamente permite que la tentación entre mediante pensamientos, palabras u obras. El alma tiene que ser cuidadosa de con quién o a qué se relaciona. Si el alma está tratando de avanzar en la santidad personal, reconocerá fácilmente al visitante no deseado y lo hará salir. El alma tiene que ser muy juiciosa con los que deja entrar a su casa, pues a veces el invitado no deseado viene revestido de bondad."

"Hagan que su casa de la santidad sea como una fortaleza de virtud. Esta es la manera de avanzar rápidamente por medio del sacrificio y la oración y es la forma de 'decorar' su casa de la santidad con virtudes cada vez más profundas. Mientras más profunda sea la virtud en el alma, más fuertes sus esfuerzos para proteger su casa de la santidad personal."

Lean Santiago 1:12




Feliz el hombre que soporta la prueba, porque después de haberla superado, recibirá la corona de Vida que el Señor prometió a los que lo aman.
RE: Latest messages are at Holy Love Ministries and Ministerios del Amor Santo