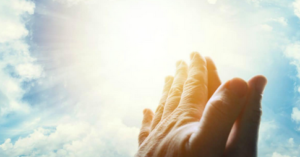 November 26, 2020
Thanksgiving Day

Once again, I (Maureen) see a Great Flame that I have come to know as the Heart of God the Father. He says: "Children, today, I am very thankful for all those who love Me and esteem My Commandments. I am thankful for the conservative citizens of this country* – the ones who want to please Me in thought, word and deed. I am thankful for those who do not embrace selfish ambition which leads them away from the Truth."

"Much of this country's and the world's difficulties stem from the misuse of the gifts I have given them. This election** in your country was a prime example. Technology, which I inspired, was convoluted in its use to elect a person that the majority of the people did not choose. It is much the same with the mass media which uses its influence to mislead millions and to disregard the Truth. The influence they have is a gift from Me which they have abused."

"I must tell you, I allow the world to continue for the sake of the honest, simple people who cannot even imagine the sinfulness in the world I see. I am so thankful for these little, unassuming souls who pray with much faith and love in their hearts. These are the conservative ones who embrace the Truth and are not misled by the evil all around them. They allow Me to be their strength and their portion. They trust in Me. I am always on the side of Truth. Therefore, as the Truth tries to unscramble the election results, I am there with those who search out the Truth. Be thankful for that."

Read 2 Thessalonians 2:13-17 +
But we are bound to give thanks to God always for you, brethren beloved by the Lord, because God chose you from the beginning to be saved, through sanctification by the Spirit and belief in the truth. To this he called you through our gospel, so that you may obtain the glory of our Lord Jesus Christ. So then, brethren, stand firm and hold to the traditions which you were taught by us, either by word of mouth or by letter. Now may our Lord Jesus Christ himself, and God our Father, who loved us and gave us eternal comfort and good hope through grace, comfort your hearts and establish them in every good work and word.

+ Scripture verse(s) asked to be read by God the Father.

 

26 de Noviembre del 2020
Día de Acción de Gracias

Nuevamente veo una gran llama que he llegado a reconocer como el Corazón de Dios Padre. Dice: "Hijos, hoy estoy muy agradecido por todos los que me aman y aprecian Mis mandamientos. Estoy agradecido por los ciudadanos conservadores de este País; aquellos que quieren agradarme de pensamiento, palabra y obra. Estoy agradecido por los que no abrazan la ambición egoísta, la cual los aleja de la verdad."

"Muchas de las dificultades de este País y del mundo se deben al mal uso de los dones que Yo les he dado. Las elecciones en su País fueron un excelente ejemplo. La tecnología, misma que Yo inspiré, la usaron de forma tergiversada para elegir a una persona que la mayoría no eligió. Lo mismo sucede con los medios de comunicación que utilizan su influencia para engañar a millones y para ignorar la verdad. La influencia que ellos tienen es un regalo de Mi parte, mismo que no han usado bien."

"Debo decirles que Yo permito que el mundo continúe por el bien de las personas honestas y sencillas que no pueden ni siquiera imaginar la pecaminosidad que Yo veo en el mundo. Estoy muy agradecido por estas pequeñas y sencillas almas que rezan con mucha fe y amor en sus corazones. Estos son los conservadores que abrazan la verdad y que no se dejan engañar por el mal que hay a su alrededor. Ellos permiten que Yo sea su fuerza y su porción. Ellos confían en Mí. Yo siempre estoy del lado de la verdad. Por lo tanto, conforme la verdad intenta descifrar los resultados de las elecciones, Yo estoy ahí con aquellos que buscan la verdad. Den gracias por eso."

Lean 2ª Tesalonicenses 2:13-17
Nosotros, por nuestra parte, siempre debemos dar gracias a Dios, a causa de ustedes, hermanos amados por el Señor. En efecto, Dios los eligió desde el principio para que alcanzaran la salvación mediante la acción santificadora del Espíritu y la fe en la verdad. Él los llamó, por medio de nuestro Evangelio, para que posean la gloria de nuestro Señor Jesucristo. Por lo tanto, hermanos, manténganse firmes y conserven fielmente las tradiciones que aprendieron de nosotros, sea oralmente o por carta. Que nuestro Señor Jesucristo y Dios, nuestro Padre, que nos amó y nos dio gratuitamente un consuelo eterno y una feliz esperanza, los reconforte y fortalezca en toda obra y en toda palabra buena.
RE: Latest messages are at Holy Love Ministries and Ministerios del Amor Santo