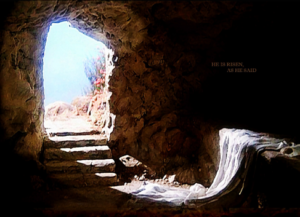 April 12, 2020
Easter Sunday – Solemnity of the Resurrection of the Lord
Jesus says: "I am your Jesus, born Incarnate."

"Children, today, marks the celebration of My Victory over sin and death. Do not look at what you do not have or have not achieved, but what you do have and what you have achieved. Then, let us celebrate this Day of Victory together. Then, together we will say: Alleluia!"

"This celebration should bring peace to your hearts as we are accomplishing together small victories and greater ones, yet to come. Consider the possibilities of these future victories – the conversion of all unbelievers, a world steeped in a Christian attitude, the joy of the acceptance by everyone of Christian goals without persecution. Live today as though all these goals were present-day victories. Then I say: Rejoice!"

Read Luke 24:45-46+




Then he opened their minds to understand the Scriptures, and said to them, "Thus it is written, that the Christ should suffer and on the third day rise from the dead,"




+ Scripture verses asked to be read by Jesus.

 

12 de Abril del 2020




Domingo de Pascua

Jesús dice: "Yo soy tu Jesús, nacido Encarnado."

"Hijos, el día de hoy marca la celebración de Mi victoria sobre el pecado y la muerte. No se fijen en lo que no tienen o en lo que no han logrado, sino vean lo que sí tienen y lo que sí han logrado. Así, celebremos juntos este día de la victoria. Así, diremos juntos: ¡Aleluya!"

"Esta celebración debe traer paz a sus corazones conforme logramos juntos pequeñas victorias y otras grandes que están por venir. Consideren las posibilidades de estas futuras victorias; la conversión de todos los no creyentes, un mundo lleno de una actitud cristiana, la alegría de que todos aceptan los objetivos cristianos sin persecución. Vivan hoy como si todos estos objetivos fueran victorias actuales. Por eso Yo digo: ¡Alégrense!"

Lean Lucas 24:45-46
Entonces les abrió la inteligencia para que pudieran comprender las Escrituras, y añadió: "Así estaba escrito: el Mesías debía sufrir y resucitar de entre los muertos al tercer día…".
RE: Latest messages are at Holy Love Ministries and Ministerios del Amor Santo