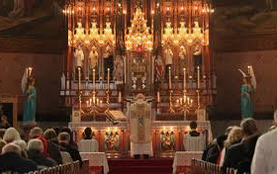 December 27, 2019
Once again, I (Maureen) see a Great Flame that I have come to know as the Heart of God the Father. He says: "Children, My Son's first days in the world were in upheaval to say the least. The Holy Family had to flee to Egypt – a long and grueling trip funded by the gifts of the Wise Men. I provided their safety along the way. It was their trust in My Provision which carried them forward with such courage."

"Now, today, I urge My Remnant Faithful to persevere in trust, which is the source of all courage. You are not setting out on a new path. You are safeguarding a Traditional path – a path of belief which I desire remains in hearts. Through every generation, this Tradition of Faith has been handed down, but never amidst such a storm of apostasy and controversy. My Commandments have been trampled underfoot by those who sojourn outside of the Faith. Tradition is unpopular, as it dictates good versus evil. These days, the path away from righteousness is made far more attractive by the wiles of evil."

"The Holy Family kept the most important provision I gave them in their hearts – that of their Faith. On your journey through life, you, children, must do the same and with courage trust in Me."

Read 2 Thessalonians 2:15+

So then, brethren, stand firm and hold to the traditions which you were taught by us, either by word of mouth or by letter.

Read 2 Timothy 1:13-14+

Follow the pattern of the sound words which you have heard from me, in the faith and love which are in Christ Jesus; guard the truth that has been entrusted to you by the Holy Spirit who dwells within us.

+ Scripture verses asked to be read by God the Father.

 

Nuevamente veo una gran llama que he llegado a reconocer como el Corazón de Dios Padre. Dice: "Hijos, los primeros días de Mi Hijo en el mundo fueron agitados, por decir lo menos. La Sagrada Familia tuvo que huir a Egipto; un viaje largo y agotador sufragado con los regalos de los Reyes Magos. Yo garanticé su seguridad a lo largo del camino. Su confianza en Mi Provisión fue lo que los hizo avanzar con tanto valor."

"Ahora, Yo exhorto a Mi Resto Fiel a perseverar en la confianza, la cual es la fuente de toda valentía. No están emprendiendo un nuevo sendero. Están salvaguardando un camino tradicional; un sendero de fe que quiero que permanezca en los corazones. Esta Tradición de la Fe se ha transmitido a través de cada generación, pero jamás entre semejante tormenta de apostasía y controversia. Mis mandamientos han sido pisoteados por aquellos que permanecen fuera de la fe. La Tradición no es popular, pues señala el bien ante el mal. En la actualidad, el sendero alejado de la rectitud se vuelve mucho más atractivo por las artimañas del mal."

"La Sagrada Familia conservó la provisión más importante que Yo les di en sus corazones; la de su fe. En el peregrinar por la vida, ustedes, hijos, tienen que hacer lo mismo y confiar en Mí con valor."

Lean 2ª Tesalonicenses 2:15
Por lo tanto, hermanos, manténganse firmes y conserven fielmente las tradiciones que aprendieron de nosotros, sea oralmente o por carta.

2ª Timoteo 1:13-14
Toma como norma las saludables lecciones de fe y de amor a Cristo Jesús que has escuchado de mí. Conserva lo que se te ha confiado, con la ayuda del Espíritu Santo que habita en nosotros.
RE: Latest messages are at Holy Love Ministries and Ministerios del Amor Santo