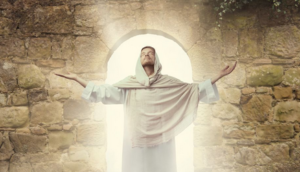 April 5, 2021
Jesus says: "I am your Jesus, born Incarnate."

"After the Crucifixion, the faith of many was shaken. When I rose from the dead, it was without fanfare. As the news of My Resurrection spread, it was not readily accepted by all. Amongst My Apostles, Thomas was the doubter. He stood on the brink of losing His faith as he tried to logically understand how this could be. This is how the faith of so many is lost in the modern world today. True faith is not based upon logic. It does not rest upon proof of the seemingly impossible. True faith is not an intellectual entity. It is a fruit in the heart."

"As the world today grows more and more intellectually oriented, true faith is diminishing in the world. This is why My Father sent to you My Mother* under the title 'Mary, Protectress of the Faith'.** This is the hour in human history when the faith of millions is tested by the human intellect. Few there are who see the true faith as something to be cherished and protected. Awaken to My Cry to guard your hearts against the malefactor who, even as I speak, is destroying the most faithful hearts and using human intellect to do so."

Read Mark 16:14-16+




Afterward he appeared to the Eleven themselves as they sat at table; and he upbraided them for their unbelief and hardness of heart, because they had not believed those who saw him after he had risen. And he said to them, "Go into all the world and preach the gospel to the whole creation. He who believes and is baptized will be saved; but he who does not believe will be condemned.




+ Scripture verses asked to be read by Jesus. (Please note: all Scripture given by Heaven refers to the Bible used by the visionary. Ignatius Press – Holy Bible – Revised Standard Version – Second Catholic Edition.)

* Blessed Virgin Mary.
** Note: After checking with a theologian from the Cleveland diocese, the bishop rejected Our Lady's request for the title 'Protectress of the Faith' stating that there already were too many devotions to Blessed Mother and the saints. Our Lady requested this title from the Cleveland bishop in 1987.

 

5 de Abril del 2021
Lunes de Pascua
Jesús dice: "Yo soy tu Jesús, nacido Encarnado."

"Después de la Crucifixión, la fe de muchos fue sacudida. Cuando resucité de entre los muertos, no fue con fanfarrias. Cuando se extendió la noticia de Mi Resurrección, no todos la aceptaron fácilmente. Entre Mis Apóstoles, el que dudó fue Tomás. Estuvo a punto de perder su fe por tratar de entender de forma lógica cómo pudo acontecer la Resurrección. Así es como muchos pierden la fe en el mundo moderno de hoy. La verdadera fe no se basa en la lógica. No se basa en la prueba de lo aparentemente imposible. La verdadera fe no es una entidad intelectual. Es un fruto en el corazón."

"Conforme el mundo actual se vuelve cada vez más orientado hacia lo intelectual, está disminuyendo la verdadera fe. Por esa razón Mi Padre les envió a Mi Madre bajo la advocación de 'María, Protectora de la Fe'. Este es el momento en la historia de la humanidad cuando el intelecto humano está poniendo a prueba la fe de millones de personas. Pocos son los que ven la verdadera fe como algo que debe atesorarse y protegerse. Despierten a Mi clamor de proteger sus corazones del malhechor que, incluso mientras hablo, está destruyendo los corazones más fieles y está utilizando el intelecto humano para lograrlo."

Lean Marcos 16:14-16




En seguida, se apareció a los Once, mientras estaban comiendo, y les reprochó su incredulidad y su obstinación porque no habían creído a quienes lo habían visto resucitado. Entonces les dijo: 'Vayan por todo el mundo, anuncien la Buena Noticia a toda la creación. El que crea y se bautice, se salvará. El que no crea, se condenará'.
RE: Latest messages are at Holy Love Ministries (www.holylove.org) and Ministerios del Amor Santo (www.amorsanto.com)