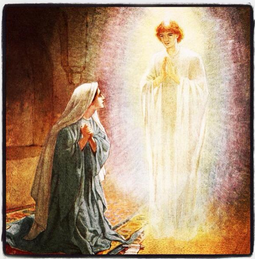 August 11, 2021
Once again, I (Maureen) see a Great Flame that I have come to know as the Heart of God the Father. He says: "If you consecrate your hearts and your lives to the Truth, you will be able humbly to say as the Blessed Virgin did at the Annunciation: 'Behold the handmaid of the Lord; let it be done unto Me according to Thy Will.'* The Holy Mother** had to continue throughout Her life to say this. The Truth is what My Will allows in your hearts and your lives to be played out in every present moment. In order to accept the Truth, you must be completely obedient to My Commandments. This is the obedience that is the salvation of the world."

Read 1 Peter 1:22-23+




Having purified your souls by your obedience to the truth for a sincere love of the brethren, love one another earnestly from the heart. You have been born anew, not of perishable seed but of imperishable, through the living and abiding word of God;




+ Scripture verses asked to be read by God the Father.

 

11 de Agosto del 2021
Nuevamente veo una gran llama que he llegado a reconocer como el Corazón de Dios Padre. Dice: "Si ustedes consagran sus corazones y sus vidas a la verdad, podrán decir con humildad lo que la Santísima Virgen dijo en la Anunciación: 'He aquí la esclava del Señor, hágase en Mí según Su Voluntad'. A lo largo de Su vida, la Santa Madre tuvo que seguir diciendo esto. La verdad es lo que Mi Voluntad permite que se realice en sus corazones y en sus vidas en cada momento presente. Para poder aceptar la verdad, ustedes tienen que ser totalmente obedientes a Mis mandamientos. Esta obediencia es la salvación del mundo."

Lean 1ª Pedro 1:22-23




Por su obediencia a la verdad, ustedes se han purificado para amarse sinceramente como hermanos. Ámense constantemente los unos a los otros con un corazón puro, como quienes han sido engendrados de nuevo, no por un germen corruptible, sino incorruptible: la Palabra de Dios, viva y eterna.
RE: Latest messages are at Holy Love Ministries (www.holylove.org) and Ministerios del Amor Santo (www.amorsanto.com)