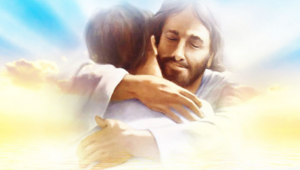 March 22, 2021
Once again, I (Maureen) see a Great Flame that I have come to know as the Heart of God the Father. He says: "Today, children, dedicate your lives to the Truth. Believe in the Truth of where you stand before Me. Understand the Truth that it is by pleasing Me you will gain eternal life. Be forgiving of one another and loving towards one another, for that is the pathway to Heaven."

"Wars begin first in hearts, then they are in the world around you. Therefore, guard your hearts against unloving thoughts towards one another. Choose to be a peacemaker. Then, I will bless your hearts and your lives. It is very often untruth that brings people against one another. Satan, as you know, is the father of lies. He promotes discord in untruth. If you wish to be at peace and to forgive, then make the effort to look for the Truth. Very often, this means introspection into your own faults."

Read 2 Timothy 1:13-14; 4:1-5+

Follow the pattern of the sound words which you have heard from me, in the faith and love which are in Christ Jesus; guard the truth that has been entrusted to you by the Holy Spirit who dwells within us. … I charge you in the presence of God and of Christ Jesus who is to judge the living and the dead, and by his appearing and his kingdom: preach the word, be urgent in season and out of season, convince, rebuke, and exhort, be unfailing in patience and in teaching. For the time is coming when people will not endure sound teaching, but having itching ears they will accumulate for themselves teachers to suit their own likings, and will turn away from listening to the truth and wander into myths. As for you, always be steady, endure suffering, do the work of an evangelist, fulfil your ministry.

+ Scripture verses asked to be read by God the Father.

 

22 de Marzo del 2021
Nuevamente veo una gran llama que he llegado a reconocer como el Corazón de Dios Padre. Dice: "Hijos, hoy día, dediquen sus vidas a la verdad. Crean en la verdad del lugar que tienen ante Mí. Comprendan la verdad de que agradándome a Mí ganarán la vida eterna. Perdónense unos a otros y ámense mutuamente porque ese es el camino al Cielo."

"Las guerras inician primero en los corazones y después están en el mundo a su alrededor. Por lo tanto, cuiden sus corazones de pensamientos no amorosos hacia los demás. Elijan ser conciliadores. Después, Yo bendeciré sus corazones y sus vidas. Con mucha frecuencia, la falsedad provoca que las personas se enfrenten. Satanás, como ustedes saben, es el padre de las mentiras. Él promueve la discordia en la falsedad. Si desean estar en paz y perdonar, entonces hagan el esfuerzo de buscar la verdad. Muchas veces, esto significa analizar sus propias faltas."

Lean 2ª Timoteo 1:13-14, 4:1-5




Toma como norma las saludables lecciones de fe y de amor a Cristo Jesús que has escuchado de mí. Conserva lo que se te ha confiado, con la ayuda del Espíritu Santo que habita en nosotros. …Yo te conjuro delante de Dios y de Cristo Jesús, que ha de juzgar a los vivos y a los muertos, y en nombre de su Manifestación y de su Reino: proclama la Palabra de Dios, insiste con ocasión o sin ella, arguye, reprende, exhorta, con paciencia incansable y con afán de enseñar. Porque llegará el tiempo en que los hombres no soportarán más la sana doctrina; por el contrario, llevados por sus inclinaciones, se procurarán una multitud de maestros que les halaguen los oídos, y se apartarán de la verdad para escuchar cosas fantasiosas. Tú, en cambio, vigila atentamente, soporta todas las pruebas, realiza tu tarea como predicador del Evangelio, cumple a la perfección tu ministerio.
RE: Latest messages are at Holy Love Ministries (www.holylove.org) and Ministerios del Amor Santo (www.amorsanto.com)