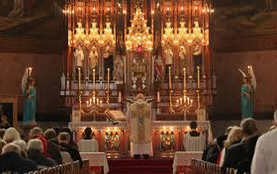 March 4, 2021
Once again, I (Maureen) see a Great Flame that I have come to know as the Heart of God the Father. He says: "The road to recovery for your nation* is genuine concern of the government for the welfare of the people. Selfish political ambition is what made the 'swamp'** what it is. Governments are not supposed to be vehicles for selfish ambition. This is also true in Church circles. Vocations are not career opportunities, but are given by Me to lead souls to their salvation. Each one in a leadership role, whether it be political or religious, has been given the opportunity to serve Me by My Divine Provision. As such, they are to serve Me by serving the welfare of the people. If they use their leadership roles towards any form of self-aggrandizement, they will be answerable to Me."

"My servants are humble, obedient to My Commandments and always empathetic towards those whom they lead and serve. They do not take credit for My Divine Inspirations. They pray daily, seeking My Divine Insight into the resolution of problems. Any success they experience, they credit to Me. Your nation can recover internationally, domestically, and economically, if the leaders resolve to follow My lead."

Read 1 Peter 5:2-4+

Tend the flock of God that is your charge, not by constraint but willingly, not for shameful gain but eagerly, not as domineering over those in your charge but being examples to the flock. And when the chief Shepherd is manifested you will obtain the unfading crown of glory.

+ Scripture verses asked to be read by God the Father.

 

4 de Marzo del 2021
Nuevamente veo una gran llama que he llegado a reconocer como el Corazón de Dios Padre. Dice: "El camino para la recuperación de su Nación es el interés genuino del gobierno por el bienestar del pueblo. La ambición política egoísta es lo que hizo que la corrupción en la política sea lo que es. Los gobiernos no deben ser un medio para la ambición egoísta. Lo mismo pasa en los círculos de la Iglesia. Las vocaciones no son oportunidades profesionales, sino Yo las doy para que guíen a las almas a su salvación. Cada persona que tiene un rol de liderazgo, sea político o religioso, ha recibido, por Mi divina Provisión, la oportunidad de servirme. Como tal, debe hacerlo estando al servicio del bienestar de la gente. Si utilizan su rol de liderazgo para alguna forma de engrandecimiento personal, tendrán que rendirme cuentas."

"Mis siervos son humildes, obedientes a Mis mandamientos y siempre empáticos con los que los siguen y a quienes sirven. Ellos no se adjudican Mis inspiraciones divinas. Rezan todos los días, buscando Mi entendimiento divino para la solución de los problemas. Cualquier éxito que tienen, el crédito me lo dan a Mí. Si los líderes se deciden a seguir Mi mando, su Nación puede recuperarse internacional, nacional y económicamente."

Lean 1ª Pedro 5:2-4




Apacienten el Rebaño de Dios, que les ha sido confiado; velen por él, no forzada, sino espontáneamente, como lo quiere Dios; no por un interés mezquino, sino con abnegación; no pretendiendo dominar a los que les han sido encomendados, sino siendo de corazón ejemplo para el Rebaño. Y cuando llegue el Jefe de los pastores, recibirán la corona imperecedera de gloria.
RE: Latest messages are at Holy Love Ministries (www.holylove.org) and Ministerios del Amor Santo (www.amorsanto.com)