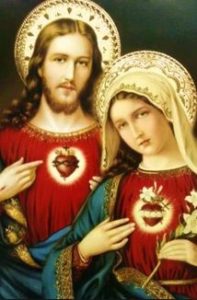 April 14, 2021
Once again, I (Maureen) see a Great Flame that I have come to know as the Heart of God the Father. He says: "Children, as I was pleased with seeing so many drive here* on April 11th,** I am expecting more in June for the Two Hearts weekend. We will have a rosary in the United Hearts Field on the Sunday after the Feast of the Sacred Heart of My Son*** and the Feast of the Holy Mother's**** Immaculate Heart.***** I am anticipating some buses, but only with half capacity of occupancy. We will practice social distancing in the field, as well."

"Please pay heed to My instructions out of Holy Love in your hearts. If you cooperate with Me, we can continue this tradition."

Read 1 Peter 1:22-23+

Having purified your souls by your obedience to the truth for a sincere love of the brethren, love one another earnestly from the heart. You have been born anew, not of perishable seed but of imperishable, through the living and abiding word of God;

+ Scripture verses asked to be read by God the Father.

 

14 de Abril del 2021
Nuevamente veo una gran llama que he llegado a reconocer como el Corazón de Dios Padre. Dice: "Hijos, ya que me complació ver que vino mucha gente a este lugar el 11 de abril, estoy contando con que vengan más en junio para el fin de semana de los Dos Corazones. Rezaremos un Rosario en el Campo de los Corazones Unidos el domingo después de la Fiesta del Sagrado Corazón de Mi Hijo y de la Fiesta del Inmaculado Corazón de la Santa Madre. Anticipo que vendrán algunos autobuses, pero solamente ocupando la mitad de la capacidad. Practicaremos también la sana distancia en el campo."

"Les pido que, con Amor Santo en sus corazones, pongan atención a Mis instrucciones. Si cooperan Conmigo, podremos continuar con esta tradición."

Lean 1ª Pedro 1:22-23




Por su obediencia a la verdad, ustedes se han purificado para amarse sinceramente como hermanos. Ámense constantemente los unos a los otros con un corazón puro, como quienes han sido engendrados de nuevo, no por un germen corruptible, sino incorruptible: la Palabra de Dios, viva y eterna.
RE: Latest messages are at Holy Love Ministries (www.holylove.org) and Ministerios del Amor Santo (www.amorsanto.com)