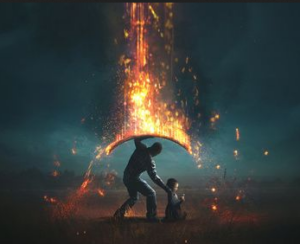 June 23, 2021
Once again, I (Maureen) see a Great Flame that I have come to know as the Heart of God the Father. He says: "Be a friend to peace of heart. Whatever disturbs your peace is a sign to you that Satan has found a port of entry into your heart. He chooses your weakest point in your own personal holiness. Sometimes it is personal relationships, love of worldly goods, attachment to people or things – but always he enters showing you just where you need to shore up your fort of personal holiness."

"These attacks by Satan are ways you can see where you need to strengthen in holiness. In this way, Satan is actually helping you to see where you can improve in your relationship with Me. It is up to each individual soul to use introspection. Very often, Satan uses pride – even self-righteousness – to enter the heart. If you use prayers as your fortress and shield, Satan will have less of an opportunity to disguise himself as some good. Then, he cannot distort the Truth. He lies to bring discord into your midst. The gift of prayer uncovers the Truth."

Read Ephesians 6:10-17+

Finally, be strong in the Lord and in the strength of his might. Put on the whole armor of God, that you may be able to stand against the wiles of the devil. For we are not contending against flesh and blood, but against the principalities, against the powers, against the world rulers of this present darkness, against the spiritual hosts of wickedness in the heavenly places. Therefore take the whole armor of God, that you may be able to withstand in the evil day, and having done all, to stand. Stand therefore, having fastened the belt of Truth around your waist, and having put on the breastplate of righteousness, and having shod your feet with the equipment of the gospel of peace; besides all these, taking the shield of faith, with which you can quench all the flaming darts of the Evil One. And take the helmet of salvation, and the sword of the Spirit, which is the word of God.

+ Scripture verses asked to be read by God the Father.

 

23 de Junio del 2021
Nuevamente veo una gran llama que he llegado a reconocer como el Corazón de Dios Padre. Dice: "Estén abiertos a la paz de corazón. Todo lo que altera su paz es una señal de que Satanás ha encontrado un acceso a sus corazones. Él elige el punto más débil que tengan en su santidad personal. Algunas veces son las relaciones personales, el amor a los bienes mundanos, el apego a las personas o a las cosas, pero siempre entra mostrándoles justo dónde necesitan apuntalar la fortaleza de su santidad personal."

"Estos ataques de Satanás son formas en las que ustedes pueden ver dónde necesitan fortalecerse en la santidad. Satanás en realidad está ayudándolos a ver cómo pueden mejorar en su relación Conmigo. Depende de cada alma utilizar la introspección. Con mucha frecuencia, Satanás usa la soberbia –incluso el fariseísmo– para entrar al corazón. Si ustedes utilizan las oraciones como su trinchera y escudo, Satanás tendrá menos oportunidades de disfrazarse de algo bueno. Así, él no puede distorsionar la verdad. Él miente para provocar discordia entre ustedes. El don de la oración descubre la verdad."

Lean Efesios 6:10-17




Por lo demás, fortalézcanse en el Señor con la fuerza de su poder. Revístanse con la armadura de Dios, para que puedan resistir las insidias del demonio. Porque nuestra lucha no es contra enemigos de carne y sangre, sino contra los Principados y Potestades, contra los Soberanos de este mundo de tinieblas, contra los espíritus del mal que habitan en el espacio. Por lo tanto, tomen la armadura de Dios, para que puedan resistir en el día malo y mantenerse firmes después de haber superado todos los obstáculos. Permanezcan de pie, ceñidos con el cinturón de la verdad y vistiendo la justicia como coraza. Calcen sus pies con el celo para propagar la Buena Noticia de la paz. Tengan siempre en la mano el escudo de la fe, con el que podrán apagar todas las flechas encendidas del Maligno. Tomen el casco de la salvación, y la espada del Espíritu, que es la Palabra de Dios.
RE: Latest messages are at Holy Love Ministries (www.holylove.org) and Ministerios del Amor Santo (www.amorsanto.com)