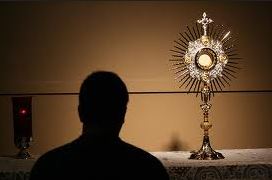 November 22, 2021
Once again, I (Maureen) see a Great Flame that I have come to know as the Heart of God the Father. He says: "Children, when you regard each present moment as a new opportunity to prove your love for Me, only then, are you holy. Holiness is not a sometimes thing. In that way, the soul chooses to love Me above all else. This is truly Holy Love."

"Whatever you give to Me by way of prayers or sacrifices, I send back into the world. This is My way of avoiding many huge disasters, not the least of which is the loss of souls. Once in Heaven, you will see all the good your prayers and sacrifices have accomplished. Souls that live in this way are My greatest weapon against Satan's wiles."

Read Galatians 6:7-10+

Do not be deceived; God is not mocked, for whatever a man sows, that he will also reap. For he who sows to his own flesh will from the flesh reap corruption; but he who sows to the Spirit will from the Spirit reap eternal life. And let us not grow weary in well-doing, for in due season we shall reap, if we do not lose heart. So then, as we have opportunity, let us do good to all men, and especially to those who are of the household of faith.

+ Scripture verses asked to be read by the Blessed Virgin Mary.

 

22 de Noviembre del 2021
Nuevamente veo una gran llama que he llegado a reconocer como el Corazón de Dios Padre. Dice: "Hijos, cuando ven cada momento presente como una nueva oportunidad para demostrar su amor por Mí, solo así son santos. La santidad no es algo ocasional. De esa manera, el ama elige amarme a Mí sobre todas las cosas. Esto es realmente Amor Santo."

"Todo lo que ustedes me entregan mediante oraciones o sacrificios, Yo lo regreso al mundo. Esta es Mi forma de evitar muchos desastres enormes, entre los que está la pérdida de almas. Cuando lleguen al Cielo, verán todo el bien que han logrado sus oraciones y sacrificios. Las almas que viven de esta manera son las armas más grandes que tengo en contra de las artimañas de Satanás."

Lean Gálatas 6:7-10




No se engañen: nadie se burla de Dios. Se recoge lo que se siembra: el que siembra para satisfacer su carne, de la carne recogerá sólo la corrupción; y el que siembra según el Espíritu, del Espíritu recogerá la Vida eterna. No nos cansemos de hacer el bien, porque la cosecha llegará a su tiempo si no desfallecemos. Por lo tanto, mientras estamos a tiempo hagamos el bien a todos, pero especialmente a nuestros hermanos en la fe.
RE: Latest messages are at Holy Love Ministries (www.holylove.org) and Ministerios del Amor Santo (www.amorsanto.com)