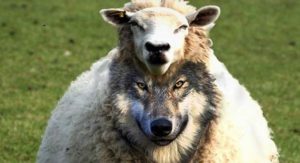 August 9, 2021
Once again, I (Maureen) see a Great Flame that I have come to know as the Heart of God the Father. He says: "Children, when Satan is using people, he is always cleverly disguised and evident only to the discerning individual. He poses as intelligencia, the pretense of inner holiness, and false charity. His real goal is always diverting souls away from the path of salvation. I am not impressed by powerful intellects, pushiness towards self-gain or any outer appearance. I look only at the heart."

"This Mission* is under My guidance. I am wounded by any who dismiss what they do not want to hear or choose only certain Messages** to believe in. This is not worthy holiness, but selfishness. All are called to personal holiness. This call is one of complete obedience to My Commandments.*** If you cannot discern how My Commandments affect your lives, you are in danger of everlasting damnation."

"The 'ship' of your soul is guided by Holy Love which embraces all of the Commandments. This ship is not powered by disordered self-love which sinks the ship and disables it."

Read 1 Thessalonians 2:13+




And we also thank God constantly for this, that when you received the word of God which you heard from us, you accepted it not as the word of men but as what it really is, the word of God, which is at work in you believers.

+ Scripture verses asked to be read by God the Father.

 

9 de Agosto del 2021
Nuevamente veo una gran llama que he llegado a reconocer como el Corazón de Dios Padre. Dice: "Hijos, cuando Satanás utiliza personas, él siempre se disfraza hábilmente y solo es evidente para la persona que discierne. Él se presenta como intelectual, con la pretensión de la santidad interior y la falsa caridad. Su verdadero objetivo siempre es desviar a las almas del sendero de la salvación. A Mí no me impresionan los grandes intelectos, el ímpetu por la ganancia personal ni ninguna apariencia externa. Yo solamente veo el corazón."

"Esta Misión está bajo Mi dirección. Me hiere cualquiera que desecha lo que no quiere escuchar o elije creer solamente en ciertos mensajes. Esto no es una santidad meritoria, sino egoísmo. Todos están llamados a la santidad personal. Este es un llamado a la total obediencia a Mis mandamientos. Si no pueden discernir la forma en que Mis mandamientos influyen en sus vidas, están en peligro de la condenación eterna."

"El 'barco' de sus almas está guiado por el Amor Santo, el cual abarca todos los mandamientos. Este barco no es impulsado por el amor propio desordenado, el cual hunde el barco y lo inhabilita."

Lean 1ª Tesalonicenses 2:13




Nosotros, por nuestra parte, no cesamos de dar gracias a Dios, porque cuando recibieron la Palabra que les predicamos, ustedes la aceptaron no como palabra humana, sino como lo que es realmente, como Palabra de Dios, que actúa en ustedes, los que creen.
RE: Latest messages are at Holy Love Ministries (www.holylove.org) and Ministerios del Amor Santo (www.amorsanto.com)