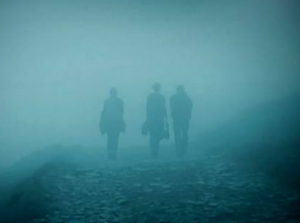 Feast of St. Faustina Kowalska
October 5, 2021
Once again, I (Maureen) see a Great Flame that I have come to know as the Heart of God the Father. He says: "Children, today a dense fog has settled over your area of the world. Once again, I compare this fog to the dullness of the conscience of the world. When Truth is clouded over, man cannot define the difference between good and evil. Therefore, he has difficulty finding his way to the path of salvation. I use certain souls as lights in the world – souls who mark the way to Truth. Too often, their light is dimmed by the apathy in hearts."

"The fog obscuring the Truth to the heart of the world can only be lifted by man's free will and readiness to cooperate with the grace of Truth.

Read 2 Thessalonians 2:13-15+




But we are bound to give thanks to God always for you, brethren beloved by the Lord, because God chose you from the beginning to be saved, through sanctification by the Spirit and belief in the truth. To this he called you through our gospel, so that you may obtain the glory of our Lord Jesus Christ. So then, brethren, stand firm and hold to the traditions which you were taught by us, either by word of mouth or by letter.




+ Scripture verses asked to be read by God the Father.

 

5 de Octubre del 2021
Nuevamente veo una gran llama que he llegado a reconocer como el Corazón de Dios Padre. Dice: "Hijos, hoy se ha puesto una densa neblina sobre esta área del mundo. Una vez más comparo esta neblina con la torpeza de la conciencia del mundo. Cuando la verdad se nubla, el hombre no puede distinguir la diferencia entre el bien y el mal. Por lo tanto, se le dificulta encontrar su camino hacia el sendero de la salvación. Yo utilizo ciertas almas como luces en el mundo; almas que marcan el camino a la verdad. Con mucha frecuencia, su luz disminuye por la apatía en los corazones."

"La neblina que hace que la verdad se opaque para el corazón del mundo solo se puede eliminar con el libre albedrío del hombre y su disposición para cooperar con la gracia de la verdad."

Lean 2ª Tesalonicenses 2:13-15




Nosotros, por nuestra parte, siempre debemos dar gracias a Dios, a causa de ustedes, hermanos amados por el Señor. En efecto, Dios los eligió desde el principio para que alcanzaran la salvación mediante la acción santificadora del Espíritu y la fe en la verdad. Él los llamó, por medio de nuestro Evangelio, para que posean la gloria de nuestro Señor Jesucristo. Por lo tanto, hermanos, manténganse firmes y conserven fielmente las tradiciones que aprendieron de nosotros, sea oralmente o por carta.
RE: Latest messages are at Holy Love Ministries (www.holylove.org) and Ministerios del Amor Santo (www.amorsanto.com)