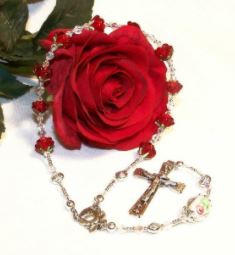 November 9, 2021
Once again, I (Maureen) see a Great Flame that I have come to know as the Heart of God the Father. He says: "Children, when you are trusting Me your heart is like a fragrant flower that I desire next to Me always. Please recognize that it is Satan who seeks to destroy your trust. Oppose him in every present moment."

Read Psalm 4:2-3+

O sons of men, how long will you be dull of heart? How long will you love vain words, and seek after lies? But know that the Lord has set apart the godly for himself; the Lord hears when I call to him.

+ Scripture verses asked to be read by God the Father.

 

9 de Noviembre del 2021
Nuevamente veo una gran llama que he llegado a reconocer como el Corazón de Dios Padre. Dice: "Hijos, cuando ustedes confían en Mí, su corazón es como una flor perfumada que Yo deseo tener siempre junto a Mí. Les pido que reconozcan que Satanás es quien intenta destruir su confianza. Opónganse a él en todo momento presente."

Lean Salmo 4:3-4




Y ustedes, señores, ¿hasta cuando ultrajarán al que es mi Gloria, amarán lo que es falso y buscarán lo engañoso? Sepan que el Señor hizo maravillas por su amigo: él me escucha siempre que lo invoco.
RE: Latest messages are at Holy Love Ministries (www.holylove.org) and Ministerios del Amor Santo (www.amorsanto.com)