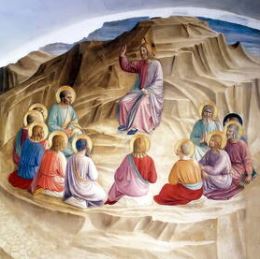 November 28, 2021
Once again, I (Maureen) see a Great Flame that I have come to know as the Heart of God the Father. He says: "Children, when you pray, offer as one of your petitions the conversion of the heart of the world. Every prayer thus offered changes some heart somewhere. Do not listen to Satan's discouragement. There is still time on the spiritual clock – which takes account of the spirit of the world – to mitigate what is to come."

"I do not listen to the heart of evil which takes charge of so many hearts. I listen to the steady heartbeat of Truth which, even at this late hour, is winning over many hearts. When My Son* returns, His will be a victory of Truth. It is through the Spirit of Truth souls can and will be saved."

"It is the Truth which determines the future of the world. The Scale of Justice is a Scale of Truth versus Satan's lies. The more souls who accept the Truth of the obedience to My Commandments,** the less My Wrath swells in My Paternal Heart. Pay heed to what I say today."

Read Read 2 Timothy 4:1-5+




I charge you in the presence of God and of Christ Jesus who is to judge the living and the dead, and by his appearing and his kingdom: preach the word, be urgent in season and out of season, convince, rebuke, and exhort, be unfailing in patience and in teaching. For the time is coming when people will not endure sound teaching, but having itching ears they will accumulate for themselves teachers to suit their own likings, and will turn away from listening to the truth and wander into myths. As for you, always be steady, endure suffering, do the work of an evangelist, fulfil your ministry.

+ Scripture verses asked to be read by God the Father.

 

28 de Noviembre del 2021
Nuevamente veo una gran llama que he llegado a reconocer como el Corazón de Dios Padre. Dice: "Hijos, cuando recen, ofrezcan como una de sus peticiones la conversión del corazón del mundo. Cada oración así ofrecida cambia algún corazón en alguna parte. No escuchen el desaliento de Satanás. Todavía queda tiempo en el reloj espiritual –el cual examina el espíritu del mundo– para mitigar lo que está por venir."

"Yo no escucho el corazón del mal que se apropia de tantos corazones. Yo escucho el latido constante de la verdad que, incluso a estas alturas, está conquistando muchos corazones. Cuando Mi Hijo regrese, Su regreso será una victoria de la verdad. A través del Espíritu de la Verdad, las almas pueden y serán salvadas."

"Es la verdad lo que determina el futuro del mundo. La balanza de la justicia es la balanza de la verdad contra las mentiras de Satanás. Mientras más almas acepten la verdad de la obediencia a Mis mandamientos, menos aumenta Mi ira en Mi Corazón Paternal. Presten atención a lo que digo hoy."

Lean 2ª Timoteo 4:1-5




Yo te conjuro delante de Dios y de Cristo Jesús, que ha de juzgar a los vivos y a los muertos, y en nombre de su Manifestación y de su Reino: proclama la Palabra de Dios, insiste con ocasión o sin ella, arguye, reprende, exhorta, con paciencia incansable y con afán de enseñar. Porque llegará el tiempo en que los hombres no soportarán más la sana doctrina; por el contrario, llevados por sus inclinaciones, se procurarán una multitud de maestros que les halaguen los oídos, y se apartarán de la verdad para escuchar cosas fantasiosas. Tú, en cambio, vigila atentamente, soporta todas las pruebas, realiza tu tarea como predicador del Evangelio, cumple a la perfección tu ministerio.
RE: Latest messages are at Holy Love Ministries (www.holylove.org) and Ministerios del Amor Santo (www.amorsanto.com)