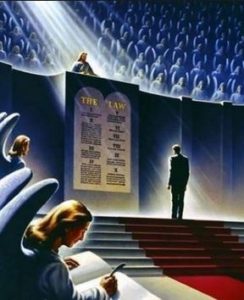 November 16, 2021
Once again, I (Maureen) see a Great Flame that I have come to know as the Heart of God the Father. He says: "Children, purify your hearts with the Truth. The world offers you every sort of distraction which leads you away from the issues at hand. The greatest issue, of course, is that hearts do not seek a clear path to their own salvation. This spiritual goal does not seem important in a world devoted to materialism, status and earthly pleasures. When you stand before My Son* in judgment, your salvation will depend upon how much you loved Me and the others I put in your lives."

"Therefore, take off the standards of the world around you. Become as newborn babes in My Sight. Allow all your moment-to-moment choices be in accord with My Will for you. Remember, My Will is your constant faithful obedience to My Commandments.** When you rest, choose activities pleasing to Me. When you work, let your efforts ultimately benefit the common good. Be a sign to others of your faithfulness to Me and My Commandments. That which seems unimportant to you now will bear much weight at your judgment."

"Be assured My Gaze is always upon you – when you are sick, when you are well, when you work or when you play. I am with you as you pray – most especially making your prayers most efficacious. Trust My Inspirations that I place in your hearts. Act on them – not with pride but with love."

Read 1 John 3:19-24+

By this we shall know that we are of the truth, and reassure our hearts before him whenever our hearts condemn us; for God is greater than our hearts, and he knows everything. Beloved, if our hearts do not condemn us, we have confidence before God; and we receive from him whatever we ask, because we keep his commandments and do what pleases him. And this is his commandment, that we should believe in the name of his Son Jesus Christ and love one another, just as he has commanded us. All who keep his commandments abide in him, and he in them. And by this we know that he abides in us, by the Spirit which he has given us.

+ Scripture verses asked to be read by God the Father.

 

16 de Noviembre del 2021
Nuevamente veo una gran llama que he llegado a reconocer como el Corazón de Dios Padre. Dice: "Hijos, purifiquen sus corazones con la verdad. El mundo les ofrece todo tipo de distracciones que los alejan de los problemas que los ocupan. Por supuesto que el mayor problema es que los corazones no buscan un sendero claro para su salvación. Esta meta espiritual no parece importante en un mundo dedicado al materialismo, al estatus y a los placeres terrenales. Cuando estén en el juicio ante Mi Hijo, su salvación dependerá de qué tanto me amaron a Mí y a los que Yo puse en sus vidas."

"Por lo tanto, dejen a un lado los estándares del mundo a su alrededor. Háganse como bebés recién nacidos a Mis Ojos. Dejen que todas sus decisiones de cada instante sean tomadas conforme a Mi Voluntad para ustedes. Recuerden, Mi Voluntad es su obediencia constante y fiel a Mis mandamientos. Cuando descansen, elijan actividades que me agraden a Mí. Cuando trabajen, que sus esfuerzos en el fondo beneficien al bien común. Sean signos para los demás de su fidelidad a Mí y a Mis mandamientos. Aquello que ahora les parece irrelevante repercutirá mucho en su juicio."

"Tengan la certeza de que Mi mirada siempre está sobre ustedes; cuando están enfermos, cuando están bien, cuando trabajan o cuando juegan. Yo estoy con ustedes cuando rezan; haciendo, sobre todo, que sus oraciones sean de lo más eficaces. Confíen en las inspiraciones que Yo pongo en sus corazones. Actúen en consecuencia, no con soberbia, sino con amor."

Lean 1ª Juan 3:19-24




En esto conoceremos que somos de la verdad, y estaremos tranquilos delante de Dios aunque nuestra conciencia nos reproche algo, porque Dios es más grande que nuestra conciencia y conoce todas las cosas. Queridos míos, si nuestro corazón no nos hace ningún reproche, podemos acercarnos a Dios con plena confianza, y él nos concederá todo cuanto le pidamos, porque cumplimos sus mandamientos y hacemos lo que le agrada. Su mandamiento es este: que creamos en el nombre de su Hijo Jesucristo, y nos amemos los unos a los otros como él nos ordenó. El que cumple sus mandamientos permanece en Dios, y Dios permanece en él; y sabemos que él permanece en nosotros, por el Espíritu que nos ha dado.
RE: Latest messages are at Holy Love Ministries (www.holylove.org) and Ministerios del Amor Santo (www.amorsanto.com)