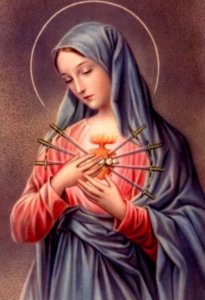 September 15, 2021
Feast of Our Lady of Sorrows

Jesus says: "I am your Jesus, born Incarnate."




Our Lady comes in various shades of gray. She says: "Praise be to Jesus."

"Today, you are observing the day of My Sorrows. I have come to tell you, dear children, that My Heart still sorrows today for the arrogant of heart who live as though everything depends on their own human efforts. God is a part of every present moment whether or not He is acknowledged. He permits. He ordains. He orders all things mightily."

"The wise place God the Father, the Son* and the Holy Spirit in Dominion over their hearts and their lives. The wise respect and obey the Father's Commandments.** They realize that their life on earth is temporary and not a be-all, end-all. I sorrow for the general course of human events which are occurring through the predominance of sin in hearts."

"Dear children, do not just hear My words – act upon them. Win the fight against evil both in your own hearts and in the world around you."

Read Galatians 1:10 +
Am I now seeking the favor of men, or of God? Or am I trying to please men? If I were still pleasing men, I should not be a servant of Christ.

Read Colossians 3:23-25 +
Whatever your task, work heartily, as serving the Lord and not men, knowing that from the Lord you will receive the inheritance as your reward; you are serving the Lord Christ. For the wrongdoer will be paid back for the wrong he has done, and there is no partiality.

+ Scripture verse(s) asked to be read by Our Lady.

 

15 de Septiembre del 2021
Nuestra Señora de los Dolores
Llega Nuestra Señora vestida en diferentes tonos de gris. Dice: "Alabado sea Jesús."

"Hoy conmemoran el día de Mis Dolores. He venido a decirles, queridos hijos, que Mi Corazón sigue sufriendo hoy por los soberbios de corazón que viven como si todo dependiera de sus esfuerzos humanos. Dios forma parte de cada momento presente, sea que se le reconozca o no. Él permite. Él ordena. Él dispone todas las cosas poderosamente."

"Las personas sabias colocan a Dios Padre, al Hijo y al Espíritu Santo en dominio sobre sus corazones y sus vidas. El sabio respeta y obedece los mandamientos del Padre. Él se da cuenta de que su vida en la tierra es temporal y no la única. Yo siento pena por el curso general de los acontecimientos humanos que están sucediendo a través del predominio del pecado en los corazones."

"Queridos hijos, no solo escuchen Mis palabras; actúen conforme a ellas. Ganen la batalla contra el mal, tanto en sus corazones como en el mundo a su alrededor."

Lean Gálatas 1:10
¿Acaso yo busco la aprobación de los hombres o la de Dios? ¿Piensan que quiero congraciarme con los hombres? Si quisiera quedar bien con los hombres, no sería servidor de Cristo.

Colosenses 3:23-25
Cualquiera que sea el trabajo de ustedes, háganlo de todo corazón, teniendo en cuenta que es para el Señor y no para los hombres. Sepan que el Señor los recompensará, haciéndolos sus herederos. Ustedes sirven a Cristo, el Señor: el que obra injustamente recibirá el pago que corresponde, cualquiera que sea su condición.
RE: Latest messages are at Holy Love Ministries (www.holylove.org) and Ministerios del Amor Santo (www.amorsanto.com)