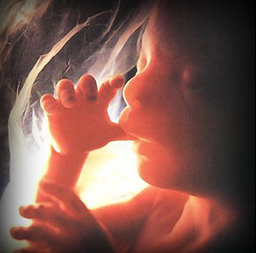 January 23, 2021 Once again, I (Maureen) see a Great Flame that I have come to know as the Heart of God the Father. He says: "With each abortion that takes place around the world, the abyss between Heaven and earth widens; morals become more decadent – governments more corrupt and more souls are lost. Technology has been misused. The Truth has been compromised and profaned. Now, this once great nation,* has given abortion carte blanche. I have been waiting for free will to awaken as to the path it is taking. The majority of the people in this country do not agree with the moral decadence taking place, but these good people are not part of the ruling class."

"However, prayer and sacrifice are more powerful than any evil free-will action. Therefore, I come to speak to the heart of your nation and beg their devoted efforts in changing the course of the future of your country and of the world through prayer and sacrifice. The soul of this nation must repent for the sins of the compromised hearts of the leaders who take this country down the path of perdition. Do not allow Satan to discourage your noble but hidden efforts of national repentance. Do not be disheartened by the decadence of your government leaders. While all their efforts are open to public view, your courageous efforts of prayer and sacrifice are embraced by Me and tip the scale in favor of My Mercy."

"No technology can scramble your efforts of prayer and sacrifice."

Read Jonah 3:1-10+

Then the word of the Lord came to Jonah the second time, saying, "Arise, go to Nineveh, that great city, and proclaim to it the message that I tell you." So Jonah arose and went to Nineveh, according to the word of the Lord. Now Nineveh was an exceedingly great city, three days' journey in breadth. Jonah began to go into the city, going a day's journey. And he cried, "Yet forty days, and Nineveh shall be overthrown!" And the people of Nineveh believed God; they proclaimed a fast, and put on sackcloth, from the greatest of them to the least of them. Then tidings reached the king of Nineveh, and he arose from his throne, removed his robe, and covered himself with sackcloth, and sat in ashes. And he made proclamation and published through Nineveh, "By the decree of the king and his nobles: Let neither man nor beast, herd nor flock, taste anything; let them not feed, or drink water, but let man and beast be covered with sackcloth, and let them cry mightily to God; yea, let every one turn from his evil way and from the violence which is in his hands. Who knows, God may yet repent and turn from his fierce anger, so that we perish not?" When God saw what they did, how they turned from their evil way, God repented of the evil which he had said he would do to them; and he did not do it.

+ Scripture verses asked to be read by God the Father. (Please note: all Scripture given by Heaven refers to the Bible used by the visionary. Ignatius Press – Holy Bible – Revised Standard Version – Second Catholic Edition.)

* U.S.A.

 

23 de Enero del 2021
Nuevamente veo una gran llama que he llegado a reconocer como el Corazón de Dios Padre. Dice: "Con cada aborto que se realiza alrededor del mundo, se ensancha el abismo entre el Cielo y la tierra. La moral se vuelve más decadente, los gobiernos se vuelven más corruptos y más almas se pierden. Se ha hecho mal uso de la tecnología. La verdad se ha negociado y la han profanado. Ahora, esta otrora gran nación, le ha dado carta blanca al aborto. Yo he estado esperando que el libre albedrío despierte en cuanto al sendero que está tomando. La mayoría de las personas en este País no está de acuerdo con la decadencia moral que está sucediendo, pero estas buenas personas no son parte de la clase dominante."

"Sin embargo, la oración y el sacrificio son más poderosos que cualquier acción maligna del libre albedrío. Por consiguiente, Yo vengo para hablarle al corazón de su Nación, y suplicar sus fervientes esfuerzos a fin de cambiar el rumbo del futuro de su País y del mundo a través de la oración y el sacrificio. El alma de esta Nación debe arrepentirse por los pecados de los corazones transigentes de los líderes que llevan a este País por el camino de la perdición. No permitan que Satanás desanime sus nobles pero ocultos esfuerzos de arrepentimiento nacional. No se desalienten por lo decadente de sus líderes de gobierno. Aunque todos sus esfuerzos están abiertos a la vista del público, Yo abrazo los valientes esfuerzos de oración y sacrificio de ustedes, los cuales inclinan la balanza en favor de Mi misericordia."

"Ninguna tecnología puede alterar sus esfuerzos de oración y sacrificio."

Lean Jonás 3:1-10
La palabra del Señor fue dirigida por segunda vez a Jonás, en estos términos: "Parte ahora mismo para Nínive, la gran ciudad, y anúnciale el mensaje que yo te indicaré". Jonás partió para Nínive, conforme a la palabra del Señor. Nínive era una ciudad enormemente grande: se necesitaban tres días para recorrerla. Jonás comenzó a internarse en la ciudad y caminó durante todo un día, proclamando: "Dentro de cuarenta días, Nínive será destruida". Los ninivitas creyeron en Dios, decretaron un ayuno y se vistieron con ropa de penitencia, desde el más grande hasta el más pequeño. Cuando la noticia llegó al rey de Nínive, este se levantó de su trono, se quitó su vestidura real, se vistió con ropa de penitencia y se sentó sobre ceniza. Además, mandó proclamar en Nínive el siguiente anuncio: "Por decreto del rey y de sus funcionarios, ningún hombre ni animal, ni el ganado mayor ni el menor, deberán probar bocado: no pasten ni beban agua; vístanse con ropa de penitencia hombres y animales; clamen a Dios con todas sus fuerzas y conviértase cada uno de su mala conducta y de la violencia que hay en sus manos. Tal vez Dios se vuelva atrás y se arrepienta, y aplaque el ardor de su ira, de manera que perezcamos". Al ver todo lo que los ninivitas hacían para convertirse de su mala conducta, Dios se arrepintió de las amenazas que les había hecho y no las cumplió.
RE: Latest messages are at Holy Love Ministries and Ministerios del Amor Santo