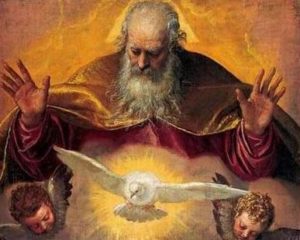 May 6, 2021
Once again, I (Maureen) see a Great Flame that I have come to know as the Heart of God the Father. He says: "There are people in the world who take great pains in watching their diet. They even pride themselves on eating organic foods and only the best supplements to maintain a healthy existence. This is commendable but must not be their only goal towards a better life. Each soul's spiritual life is the proving ground for where they spend their eternity. The 'vitamins' of a healthy spirituality are prayer and sacrifice. These are the ways spirituality is strengthened."

"Without prayer and sacrifice, the soul withers away in the environment of worldly concerns. He is not fed spiritually and, moreover, is not concerned about the relationship he has or doesn't have with Me. This course takes him into many temptations detrimental to his reward after his life in the world."

"I speak to you as a loving Father who is concerned for the welfare of each of His children. As long as there is life within you, ask for the grace to love Me more than anything in the world. This is your key to salvation."

Read Colossians 3:5-10+

Put to death therefore what is earthly in you: immorality, impurity, passion, evil desire, and covetousness, which is idolatry. On account of these the wrath of God is coming. In these you once walked, when you lived in them. But now put them all away: anger, wrath, malice, slander, and foul talk from your mouth. Do not lie to one another, seeing that you have put off the old man with his practices and have put on the new man, who is being renewed in knowledge after the image of his creator.

+ Scripture verses asked to be read by God the Father.

 

6 de mayo de 2021
Una vez más, yo (Maureen) veo una Gran Llama que he llegado a conocer como el Corazón de Dios Padre. Él dice: "Hay personas en el mundo que se esfuerzan mucho en vigilar su dieta. Incluso se enorgullecen de comer alimentos orgánicos y solo los mejores suplementos para mantener una existencia saludable. Esto es loable, pero no debe ser su único objetivo hacia una vida mejor. La vida espiritual de cada alma es el campo de pruebas donde pasan su eternidad. Las 'vitaminas' de una espiritualidad sana son la oración y el sacrificio. Estas son las formas en que se fortalece la espiritualidad ".

"Sin oración y sacrificio, el alma se marchita en el ambiente de las preocupaciones mundanas. No se alimenta espiritualmente y, además, no se preocupa por la relación que tiene o no tiene conmigo. Este curso la lleva a muchas tentaciones perjudiciales a su recompensa después de su vida en el mundo ".

"Les hablo como un Padre amoroso que se preocupa por el bienestar de cada uno de Sus hijos. Mientras haya vida dentro de ustedes, pidan la gracia de amarme más que a nada en el mundo. Esta es su clave para la salvación. . "

Lea Colosenses 3: 5-10 +

Muera, pues, lo terrenal en ustedes: la inmoralidad, la impureza, las pasiones, los malos deseos y la codicia, que es idolatría. Por estos motivos viene la ira de Dios. En estos caminaste una vez, cuando vivías en ellos. Pero ahora desecha todos: la ira, la ira, la malicia, la calumnia y las malas palabras de tu boca. No se mientan unos a otros, ya que se han despojado del anciano con sus prácticas y se han revestido del nuevo, que se renueva en conocimiento a imagen de su Creador.

+ Los versículos de las Escrituras pidieron ser leídos por Dios el Padre.
RE: Latest messages are at Holy Love Ministries (www.holylove.org) and Ministerios del Amor Santo (www.amorsanto.com)