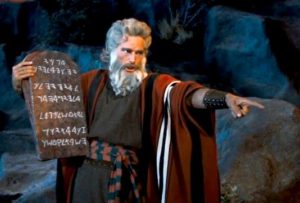 May 21, 2021
Once again, I (Maureen) see a Great Flame that I have come to know as the Heart of God the Father. He says: "These are evil times, as the conscience of the heart of the world has been dulled by a lax morality. Sin is not a consideration anymore. Mankind acts and speaks and thinks according to his own pleasure. My Commandments are no longer a path to salvation. Rather, disregard for them has become the path to perdition. The relatively few who do respect My Commandments are persecuted and scorned."

"World peace depends upon a universal return to respect for My Laws. Only then would devotion to My Will be esteemed. Once again, souls would clamor to strict adherence to My Commandments. Everyone would choose to please Me and thereby, cherish a deep spiritual holiness."

"So today, once again, I call each soul to familiarize himself with My Commandments. Make strict obedience to My Laws a priority in your lives. Only then will ungodly laws be stricken from the books. Sin will be recognized as evil. The difference between good and evil will be readily recognized as man will have more perfect discernment. His conscience will hold him accountable. He will be walking in the New Jerusalem."

Read 2 Corinthians 5:10 +




For we must all appear before the judgment seat of Christ, so that each one may receive good or evil, according to what he has done in the body.

+ Scripture verses asked to be read by God the Father.

 

21 de mayo de 2021
Una vez más, yo (Maureen) veo una Gran Llama que he llegado a conocer como el Corazón de Dios Padre. Dice: "Estos son tiempos malos, pues la conciencia del corazón del mundo ha sido embotada por una moral laxa. El pecado ya no es una consideración. La humanidad actúa, habla y piensa según su propio placer. Mis mandamientos ya no son un camino de salvación. Más bien, el desprecio de ellos se ha convertido en el camino de la perdición. Los relativamente pocos que respetan Mis mandamientos son perseguidos y despreciados ".

"La paz mundial depende de un retorno universal al respeto de Mis Leyes. Sólo entonces se estimará la devoción a Mi Voluntad. Una vez más, las almas clamarían por la estricta adherencia a Mis Mandamientos. Todos elegirían agradarme y, por lo tanto, atesorar una profunda espiritualidad santidad."

"Así que hoy, una vez más, llamo a cada alma a familiarizarse con Mis Mandamientos. Hagan de la estricta obediencia a Mis Leyes una prioridad en sus vidas. Solo entonces las leyes impías serán eliminadas de los libros. El pecado será reconocido como malvado. La diferencia entre el bien y el mal se reconocerá fácilmente a medida que el hombre tenga un discernimiento más perfecto. Su conciencia lo hará responsable. Caminará en la Nueva Jerusalén ".

Lea 2 Corintios 5:10 +




Porque es necesario que todos comparezcamos ante el tribunal de Cristo, para que cada uno reciba el bien o el mal, según lo que haya hecho en el cuerpo.
RE: Latest messages are at Holy Love Ministries (www.holylove.org) and Ministerios del Amor Santo (www.amorsanto.com)