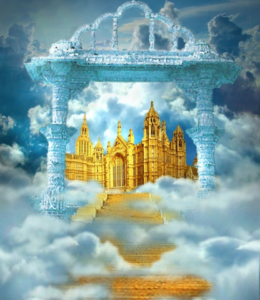 February 19, 2021
Once again, I (Maureen) see a Great Flame that I have come to know as the Heart of God the Father. He says: "Children, as you offer worthy sacrifices to Me based upon Holy Love, you are building a more secure 'house' of personal holiness. The windows of this house see more easily into what needs to be done to please Me. This is all part of the victory of your journey towards your own salvation."

"Sometimes the windows of this house of holiness become smudged by the attraction of the allurements of the world. It is then, by your efforts, you can 'clean the windows' by recommitting to an effort to live a life of holiness. This is all part of the human condition to make the house of personal holiness secure."

"Treasure the opportunities you are shown to make worthy sacrifices. Once again, always keep in mind the physical well-being of the temple of the Holy Spirit, which is your corporeal body."

Read 2 Thessalonians 2:13-15+

But we are bound to give thanks to God always for you, brethren beloved by the Lord, because God chose you from the beginning to be saved, through sanctification by the Spirit and belief in the truth. To this he called you through our gospel, so that you may obtain the glory of our Lord Jesus Christ. So then, brethren, stand firm and hold to the traditions which you were taught by us, either by word of mouth or by letter.

+ Scripture verses asked to be read by God the Father.

 

19 de Febrero del 2021
Nuevamente veo una gran llama que he llegado a reconocer como el Corazón de Dios Padre. Dice: "Hijos, cuando me ofrecen sacrificios meritorios basados en el Amor Santo, están construyendo una casa de la santidad personal más segura. Por las ventanas de esta casa se ve más fácilmente lo que hay que hacer para agradarme a Mí. Todo esto es parte de la victoria del viaje hacia su propia salvación."

"A veces, las ventanas de esta casa de la santidad se manchan con la atracción de las seducciones del mundo. Cuando eso pasa, ustedes pueden 'limpiar' las ventanas al comprometerse nuevamente a esforzarse por llevar una vida de santidad. Todo esto es parte de la condición humana para que la casa de la santidad personal esté segura."

"Atesoren las oportunidades que se les presentan para hacer sacrificios meritorios. Insisto, siempre tengan en mente el bienestar físico del templo del Espíritu Santo, el cual es su cuerpo físico."

Lean 2ª Tesalonicenses 2:13-15
Nosotros, por nuestra parte, siempre debemos dar gracias a Dios, a causa de ustedes, hermanos amados por el Señor. En efecto, Dios los eligió desde el principio para que alcanzaran la salvación mediante la acción santificadora del Espíritu y la fe en la verdad. Él los llamó, por medio de nuestro Evangelio, para que posean la gloria de nuestro Señor Jesucristo. Por lo tanto, hermanos, manténganse firmes y conserven fielmente las tradiciones que aprendieron de nosotros, sea oralmente o por carta.
RE: Latest messages are at Holy Love Ministries and Ministerios del Amor Santo