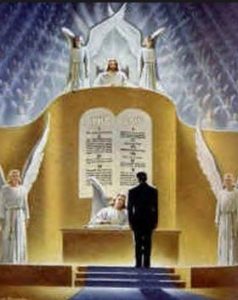 God The Father
January 11, 2021
Once again, I (Maureen) see a Great Flame that I have come to know as the Heart of God the Father. He says: "Children, in the end, each soul is accountable first to Me. My Judgment is always based upon Holy Love in the heart. Every decision – every thought, word or deed is worthy only in accordance to the Holy Love in the Heart in that moment. All of this, the moments which comprise a person's life in the world, combine to equal the soul's eternal destination. If you love Me and wish to spend eternity with Me – keep My Commandments. This is the only way that I can share Paradise with you. Make an effort to understand the depth of each Commandment. You are not saved simply because you never killed someone or stole from somebody. You will be saved by loving Me more than the world and all its pleasures. Love Me more than possessions, or comforts or status in the world. Get to know Me better through the Scriptures. In all of this, learn to love the Truth, which holds you close to Me."

"I long for a deeper relationship with each soul. Turn to Me then, and be My own. I am waiting to embrace you in Divine Love."

Read 1John 3:18-24+




Little children, let us not love in word or speech but in deed and in truth. By this we shall know that we are of the truth, and reassure our hearts before him whenever our hearts condemn us; for God is greater than our hearts, and he knows everything. Beloved, if our hearts do not condemn us, we have confidence before God; and we receive from him whatever we ask, because we keep his commandments and do what pleases him. And this is his commandment, that we should believe in the name of his Son Jesus Christ and love one another, just as he has commanded us. All who keep his commandments abide in him, and he in them. And by this we know that he abides in us, by the Spirit which he has given us.

+ Scripture verses asked to be read by God the Father.

 

11 de Enero del 2021
Nuevamente veo una gran llama que he llegado a reconocer como el Corazón de Dios Padre. Dice: "Hijos, al final, cada alma me rinde cuentas a Mí. Mi Juicio siempre se basa en el Amor Santo que hay en el corazón. Cada decisión, cada pensamiento, palabra o acción, es meritoria solamente conforme al Amor Santo que haya en el corazón en ese momento. Todo esto, los momentos que componen la vida de una persona en el mundo, se combinan para determinar el destino eterno del alma. Si me aman y desean pasar la eternidad Conmigo, cumplan Mis mandamientos. Esta es la única manera en que puedo compartir el Paraíso con ustedes. Hagan un esfuerzo por comprender la profundidad de cada mandamiento. Ustedes no se salvan simplemente porque nunca mataron o robaron a nadie. Ustedes se salvarán por amarme a Mí más que al mundo y a todos sus placeres. Ámenme más que a sus posesiones, comodidades o a su estatus en el mundo. Conózcanme mejor por medio de las Escrituras. En todo esto, aprendan a amar la verdad, la cual los mantiene cerca de Mí."

"Anhelo una relación más profunda con cada alma. Entonces, vuélvanse a Mí, y sean Míos. Estoy esperando abrazarlos con Amor Divino."

Lean 1ª Juan 3:18-24




Hijitos míos, no amemos solamente con la lengua y de palabra, sino con obras y de verdad. En esto conoceremos que somos de la verdad, y estaremos tranquilos delante de Dios aunque nuestra conciencia nos reproche algo, porque Dios es más grande que nuestra conciencia y conoce todas las cosas. Queridos míos, si nuestro corazón no nos hace ningún reproche, podemos acercarnos a Dios con plena confianza, y él nos concederá todo cuanto le pidamos, porque cumplimos sus mandamientos y hacemos lo que le agrada. Su mandamiento es este: que creamos en el nombre de su Hijo Jesucristo, y nos amemos los unos a los otros como él nos ordenó. El que cumple sus mandamientos permanece en Dios, y Dios permanece en él; y sabemos que él permanece en nosotros, por el Espíritu que nos ha dado.
RE: Latest messages are at Holy Love Ministries and Ministerios del Amor Santo