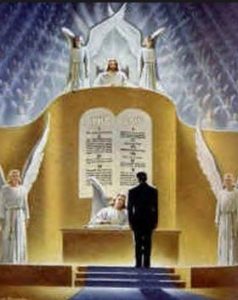 November 1, 2020 Once again, I (Maureen) see a Great Flame that I have come to know as the Heart of God the Father. He says: "I desire to point out to you today, children, how important your free-will choices are and always have been. You choose your own eternity by your embrace of My Commandments or your embrace of sin. Your choices affect others by your example of how you live your life and the influence you have on people around you. These days, in this country,* you have a very important choice coming up in this Presidential election.** Each soul will be held accountable to Me as to whom he endorses. Now is the time when your position on abortion – for or against – can bring support to life in the womb or provoke more indifference towards the life I place in your midst. These innocent little lives are dependent upon whom you give power to by merit of your vote. This is more than ever an election between good and evil."

"Choosing one candidate not only jeopardizes life in the womb but some of your proud nation's basic freedoms. Do not lend support to dishonesty, but to the Truth. Reconcile your hearts to belief in the Truth, not to words meant to mislead you, such as 'progressivism'. I am part of each vote that is cast – good against evil. Vote to be part of My Plan for your soul and to the soul of your nation."

Read 2 Timothy 4:1-5+

I charge you in the presence of God and of Christ Jesus who is to judge the living and the dead, and by his appearing and his kingdom: preach the word, be urgent in season and out of season, convince, rebuke, and exhort, be unfailing in patience and in teaching. For the time is coming when people will not endure sound teaching, but having itching ears they will accumulate for themselves teachers to suit their own likings, and will turn away from listening to the truth and wander into myths. As for you, always be steady, endure suffering, do the work of an evangelist, fulfil your ministry.

Read 2 Thessalonians 2:13-15+

But we are bound to give thanks to God always for you, brethren beloved by the Lord, because God chose you from the beginning to be saved, through sanctification by the Spirit and belief in the truth. To this he called you through our gospel, so that you may obtain the glory of our Lord Jesus Christ. So then, brethren, stand firm and hold to the traditions which you were taught by us, either by word of mouth or by letter.

+ Scripture verses asked to be read by God the Father.

 

1º de Noviembre del 2020
Nuevamente veo una gran llama que he llegado a reconocer como el Corazón de Dios Padre. Dice: "Hijos, hoy quiero señalarles lo importante que son y que siempre han sido las decisiones de su libre albedrío. Ustedes eligen su propia eternidad al aceptar Mis mandamientos o al aceptar el pecado. Sus decisiones afectan a los demás con el ejemplo que dan de sus vidas y con la influencia que tienen en las personas a su alrededor. En estos días, en este País, ustedes tienen una decisión muy importante en puerta con estas elecciones presidenciales. Cada alma será responsable ante Mí por la persona a quien respalde. Ahora es el tiempo en el que su posición ante el aborto –a favor o en contra– puede dar apoyo a la vida en el vientre materno o provocar más indiferencia hacia la vida que Yo pongo en medio de ustedes. Estas pequeñas vidas inocentes dependen de aquel al que ustedes den poder con sus votos. Estas elecciones son más que nunca una elección entre el bien y el mal."

"Elegir un candidato no solamente pone en riesgo la vida en el vientre materno, sino algunas de las libertades básicas de su orgullosa Nación. No den apoyo a la deshonestidad, sino a la verdad. Concilien sus corazones con la fe en la verdad, no con las palabras diseñadas para confundirlos, tal como el progresismo. Yo formo parte de cada voto que se emite; voto del bien contra el mal. Voten para que sean parte de Mi plan para sus almas y para el alma de su Nación."

Lean 2ª Timoteo 4:1-5




Yo te conjuro delante de Dios y de Cristo Jesús, que ha de juzgar a los vivos y a los muertos, y en nombre de su Manifestación y de su Reino: proclama la Palabra de Dios, insiste con ocasión o sin ella, arguye, reprende, exhorta, con paciencia incansable y con afán de enseñar. Porque llegará el tiempo en que los hombres no soportarán más la sana doctrina; por el contrario, llevados por sus inclinaciones, se procurarán una multitud de maestros que les halaguen los oídos, y se apartarán de la verdad para escuchar cosas fantasiosas. Tú, en cambio, vigila atentamente, soporta todas las pruebas, realiza tu tarea como predicador del Evangelio, cumple a la perfección tu ministerio.

2ª Tesalonicenses 2: 13-15




Nosotros, por nuestra parte, siempre debemos dar gracias a Dios, a causa de ustedes, hermanos amados por el Señor. En efecto, Dios los eligió desde el principio para que alcanzaran la salvación mediante la acción santificadora del Espíritu y la fe en la verdad. Él los llamó, por medio de nuestro Evangelio, para que posean la gloria de nuestro Señor Jesucristo. Por lo tanto, hermanos, manténganse firmes y conserven fielmente las tradiciones que aprendieron de nosotros, sea oralmente o por carta.
RE: Latest messages are at Holy Love Ministries and Ministerios del Amor Santo