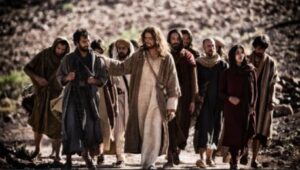 November 27, 2021
Once again, I (Maureen) see a Great Flame that I have come to know as the Heart of God the Father. He says: "Children, you must pray for fortitude and forbearance in the face of such an unbelieving world. Proof of this apathy is the lack of enthusiasm for this Ministry,* which is so strategic in these times. Here** you can receive the gift of discerning good from evil.*** This gift unravels Satan's plan of confusion he desires to sew in hearts all over the world."

"Treasure the gift of faith that, if nurtured, will carry you through these times. Every day opens upon new tests of faith and triggers greater challenges of perseverance. If your faith is strong, Satan will be unable to nurture fear in your hearts. You will not be unseated as one of My strong Apostles of Love."

"It is necessary that you pray daily for perseverance in righteousness through a strong faith. Such a prayer is your weapon against Satan's wiles. Faith based upon love is Satan's defeat."

Read Romans 8:28 +

We know that in everything God works for good with those who love him, who are called according to his purpose.

+ Scripture verses asked to be read by God the Father.

 

27 de Noviembre del 2021
Nuevamente veo una gran llama que he llegado a reconocer como el Corazón de Dios Padre. Dice: "Hijos, tienen que rezar pidiendo fortaleza y paciencia ante un mundo tan incrédulo. La falta de entusiasmo por este Ministerio, el cual es tan estratégico en estos tiempos, es una prueba de esta apatía. Aquí ustedes pueden recibir el don de distinguir el bien del mal. Este don desenreda el plan de confusión de Satanás que él desea sembrar en los corazones de todo el mundo."

"Atesoren el don de la fe que, si se nutre, los sacará adelante en estos tiempos. Cada día se abre a nuevas pruebas de fe y desencadena mayores desafíos para la perseverancia. Si su fe es fuerte, Satanás no podrá fomentar el miedo en sus corazones. No serán sustituidos como uno de Mis fuertes apóstoles del amor."

"Es necesario que recen todos los días pidiendo perseverancia en la rectitud a través de una fe fuerte. Una oración así es su arma contra las artimañas de Satanás. La fe basada en el amor es la derrota de Satanás."

Lean Romanos 8:28




Sabemos, además, que Dios dispone todas las cosas para el bien de los que lo aman, de aquellos que él llamó según su designio.
RE: Latest messages are at Holy Love Ministries (www.holylove.org) and Ministerios del Amor Santo (www.amorsanto.com)