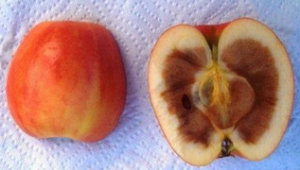 May 16, 2021
Once again, I (Maureen) see a Great Flame that I have come to know as the Heart of God the Father. He says: "Children, in the world today, you must be more discerning as to what you accept as Truth. Many times, people are not what they seem to be on the outside."

Now, I (Maureen) see a beautiful apple which is sliced open and is rotten on the inside.

"You must realize Satan's most evil of plans is to corrupt the heart of a person or institution while it remains perfect on the outside. This is why I tell you, do not blindly respect high-powered positions, uniforms or persons of status without knowing the inner motivations of the people who hold influential titles or positions."

"Satan disguises himself with positions of human respect or vocations, all the while using his outer authority to perpetuate his lies. This is how untruth is perpetuated – hidden beneath the surface of good and respect. You must investigate before you believe. The Truth is often times difficult to discover."

Read 2 Timothy 4:1-5+

I charge you in the presence of God and of Christ Jesus who is to judge the living and the dead, and by his appearing and his kingdom: preach the word, be urgent in season and out of season, convince, rebuke, and exhort, be unfailing in patience and in teaching. For the time is coming when people will not endure sound teaching, but having itching ears they will accumulate for themselves teachers to suit their own likings, and will turn away from listening to the truth and wander into myths. As for you, always be steady, endure suffering, do the work of an evangelist, fulfil your ministry.

+ Scripture verses asked to be read by God the Father.

 

16 de Mayo del 2021
Nuevamente veo una gran llama que he llegado a reconocer como el Corazón de Dios Padre. Dice: "Hijos, en el mundo de hoy, tienen que discernir mejor lo que aceptan como verdad. Muchas veces, las personas no son lo que parecen ser en el exterior."

(Ahora veo una hermosa manzana que al cortarla está podrida por dentro.)

"Tienen que darse cuenta de que el plan más maligno de Satanás es corromper el corazón de una persona o institución mientras permanece impecable en el exterior. Por eso les digo que no obedezcan ciegamente las posiciones de alto poder, los uniformes o las personas de estatus si no conocen las intenciones internas de las personas que portan títulos o posiciones de influencia."

"Satanás se disfraza de vocaciones o posiciones de respeto humano, usando todo el tiempo esa autoridad externa para prolongar sus mentiras. Así es como se prolonga la falsedad; oculta debajo de una superficie de bien y de respeto. Ustedes tienen que investigar antes de creer. Muchas veces, la verdad es difícil de descubrir."

Lean 2ª Timoteo 4:1-5
Yo te conjuro delante de Dios y de Cristo Jesús, que ha de juzgar a los vivos y a los muertos, y en nombre de su Manifestación y de su Reino: proclama la Palabra de Dios, insiste con ocasión o sin ella, arguye, reprende, exhorta, con paciencia incansable y con afán de enseñar. Porque llegará el tiempo en que los hombres no soportarán más la sana doctrina; por el contrario, llevados por sus inclinaciones, se procurarán una multitud de maestros que les halaguen los oídos, y se apartarán de la verdad para escuchar cosas fantasiosas. Tú, en cambio, vigila atentamente, soporta todas las pruebas, realiza tu tarea como predicador del Evangelio, cumple a la perfección tu ministerio.
RE: Latest messages are at Holy Love Ministries (www.holylove.org) and Ministerios del Amor Santo (www.amorsanto.com)