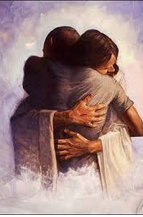 November 2, 2020 Once again, I (Maureen) see a Great Flame that I have come to know as the Heart of God the Father. He says: "I need to remind you that good or bad choices determine a soul's destiny and place in eternity. Living in the present moment does not mean you ignore the whole reason I created you. You were created to know Me and to love Me. So, it follows, you are called to love My Commandments. This love of My Commandments is wrapped in obedience. My Commandments are a roadmap to Heaven."

"If you obey My Commandments, then you are dedicated to the Truth. A dishonest person is only fooling himself. I see into all hearts. I know each soul far better than he knows himself. The souls devoted to the Truth receive My Blessing in abundance, both in this life and the next. I expose evil in My own way and in My own time. Nothing is hidden from Me. The soul who supports the Truth in every way is in command of each present moment I give him."

"Do not be fooled by the empty promises of those who are ambitious only for themselves. Often what is seen in the foreground is negated by an evil hidden agenda – one that transgresses the rights of others. Be wise enough to understand this."

Read Galatians 6:7-9+

Do not be deceived; God is not mocked, for whatever a man sows, that he will also reap. For he who sows to his own flesh will from the flesh reap corruption; but he who sows to the Spirit will from the Spirit reap eternal life. And let us not grow weary in well-doing, for in due season we shall reap, if we do not lose heart.

+ Scripture verses asked to be read by God the Father.

 

2 de Noviembre del 2020
Nuevamente veo una gran llama que he llegado a reconocer como el Corazón de Dios Padre. Dice: "Necesito recordarles que las decisiones buenas o malas determinan el destino y lugar de un alma en la eternidad. Vivir en el momento presente significa que no desconocen la única razón por la que Yo los creé. Ustedes fueron creados para conocerme y amarme. Así que es lógico que sean llamados a amar Mis mandamientos. Este amor a Mis mandamientos está envuelto por la obediencia. Mis mandamientos son un mapa al Cielo."

"Si obedecen Mis mandamientos, entonces son devotos a la verdad. Una persona deshonesta solamente se engaña a sí misma. Yo veo dentro de todos los corazones. Conozco cada alma mucho mejor de lo que ella misma se conoce. Las almas devotas a la verdad reciben Mi bendición en abundancia, tanto en esta vida como en la próxima. Yo expongo el mal a Mi manera y a Mi tiempo. No hay nada oculto para Mí. El alma que apoya la verdad en todos los sentidos está al mando de cada momento presente que Yo le doy."

"No se dejen engañar por las promesas vacías de los que tienen ambición solamente para sí mismos. Con frecuencia, lo que se ve en primer plano es anulado por una agenda del mal oculta; una agenda que transgrede los derechos de los demás. Sean lo suficientemente sabios para comprender esto."

Lean Gálatas 6:7-9
No se engañen: nadie se burla de Dios. Se recoge lo que se siembra: el que siembra para satisfacer su carne, de la carne recogerá sólo la corrupción; y el que siembra según el Espíritu, del Espíritu recogerá la Vida eterna. No nos cansemos de hacer el bien, porque la cosecha llegará a su tiempo si no desfallecemos.
RE: Latest messages are at Holy Love Ministries and Ministerios del Amor Santo