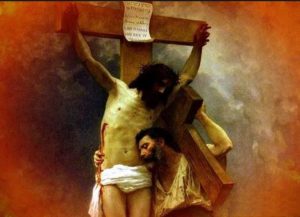 February 20, 2021
Once again, I (Maureen) see a Great Flame that I have come to know as the Heart of God the Father. He says: "The stronger the Holy Love in your heart – the stronger your house of personal holiness is. Holy Love increases in strength in proportion to your efforts to please Me. All your prayers and sacrifices are as worthy as the Holy Love in your heart is strong. Keep your eyes and your hearts centered always on My Divine Will. My Will is that you love Me above all else and your neighbor as yourself."

"Your acceptance of your crosses is your strength. Do not boast about your crosses for this weakens the sacrifice. Keep your focus upon the greatest good – the salvation of souls. By your example, you are teaching others how to sacrifice. These days, souls spend a great deal of time and effort on pleasing themselves. This is the effort of mass media and the efforts of advertising which promote self-happiness and pleasure. This leads to a false sense of security. Genuine security lies in a strong relationship with Me. Allow Me to lead you deeper into My Paternal Heart and to surround you with My Love. This is the goal I set before you – the goal I call you to."

Read Ephesians 5:15-17+

Look carefully then how you walk, not as unwise men but as wise, making the most of the time, because the days are evil. Therefore do not be foolish, but understand what the will of the Lord is.

+ Scripture verses asked to be read by God the Father.

 

20 de febrero de 2021
Una vez más, yo (Maureen) veo una Gran Llama que he llegado a conocer como el Corazón de Dios Padre. Él dice: "Cuanto más fuerte es el Amor Santo en tu corazón, más fuerte es tu casa de santidad personal. El Amor Santo aumenta en fuerza en proporción a tus esfuerzos por agradarme. Todas tus oraciones y sacrificios son tan dignos como el Amor Santo en tu el corazón es fuerte. Mantén tus ojos y tu corazón siempre centrados en Mi Divina Voluntad. Mi Voluntad es que Me ames por encima de todo ya tu prójimo como a ti mismo ".

"Tu aceptación de tus cruces es tu fuerza. No te jactes de tus cruces porque esto debilita el sacrificio. Mantén tu enfoque en el bien mayor: la salvación de las almas. Con tu ejemplo, estás enseñando a otros cómo sacrificarse. En estos días, Las almas dedican una gran cantidad de tiempo y esfuerzo a complacerse a sí mismas. Este es el esfuerzo de los medios de comunicación y los esfuerzos de la publicidad que promueven la felicidad personal y el placer. Esto conduce a una falsa sensación de seguridad. La seguridad genuina radica en una fuerte relación con Yo. Permíteme llevarte más profundamente a Mi Corazón Paternal y rodearte de Mi Amor. Esta es la meta que te propongo – la meta a la que te llamo ".

Lea Efesios 5: 15-17 +

Fíjense, pues, cómo caminan, no como hombres insensatos sino como sabios, aprovechando el tiempo, porque los días son malos. Por tanto, no seas insensato, sino que comprendas cuál es la voluntad del Señor.

+ Los versículos de las Escrituras pidieron ser leídos por Dios el Padre.
RE: Latest messages are at Holy Love Ministries and Ministerios del Amor Santo