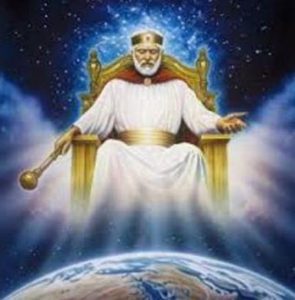 December 17, 2019
Once again, I (Maureen) see a Great Flame that I have come to know as the Heart of God the Father. He says: "Children, as the Feast of Christmas draws near, do not allow affairs of the world to distract you. Politics, in particular, these days, seem designed to grab your attention. This is why it is My Will that you recognize Satan's designs upon the focus of your heart. Your best prayer intention is that My Will rules all hearts – including your own."

"If people could or would do this, they would recognize the many ways the world is being manipulated by Satan. Even the warning I am giving you today will be lost to the worldly-wise. True wisdom comes from My Holy Spirit. This type of wisdom is not any plan of man – conjured up to suit his own needs. True wisdom comes into the heart bringing My Will as reason and solution. Beware of human reason which stops short of any Heavenly guidance and benefits only Satan's agenda."

Read James 3:13-18+

Who is wise and understanding among you? By his good life let him show his works in the meekness of wisdom. But if you have bitter jealousy and selfish ambition in your hearts, do not boast and be false to the truth. This wisdom is not such as comes down from above, but is earthly, unspiritual, devilish. For where jealousy and selfish ambition exist, there will be disorder and every vile practice. But the wisdom from above is first pure, then peaceable, gentle, open to reason, full of mercy and good fruits, without uncertainty or insincerity. And the harvest of righteousness is sown in peace by those who make peace.

+ Scripture verses asked to be read by God the Father.

 

Nuevamente veo una gran llama que he llegado a reconocer como el Corazón de Dios Padre. Dice: "Hijos, conforme se acerca la Fiesta de la Navidad, no permitan que los asuntos del mundo los distraigan. En estos tiempos, la política, en particular, parece diseñada para captar su atención. Por esa razón es Mi Voluntad que reconozcan los planes de Satanás en el centro de sus corazones. Su mejor intención de oración es que Mi Voluntad gobierne todos los corazones, incluyendo el de ustedes."

"Si las personas pudieran o hicieran esto, reconocerían las muchas formas en que el mundo está siendo manipulado por Satanás. Incluso la advertencia que hoy les doy se perderá para los sabios del mundo. La verdadera sabiduría llega de Mi Espíritu Santo. Este tipo de sabiduría no es ningún plan humano ideado para satisfacer sus propias necesidades. La verdadera sabiduría entra al corazón trayendo Mi Voluntad como razón y solución. Tengan cuidado de la razón humana, la cual anula cualquier directriz celestial y beneficia solamente la agenda de Satanás."

Lean Santiago 3:13-18
El que se tenga por sabio y prudente, demuestre con su buena conducta que sus actos tienen la sencillez propia de la sabiduría. Pero si ustedes están dominados por la rivalidad y por el espíritu de discordia, no se vanaglorien ni falten a la verdad. Semejante sabiduría no desciende de lo alto sino que es terrena, sensual y demoníaca. Porque donde hay rivalidad y discordia, hay también desorden y toda clase de maldad. En cambio, la sabiduría que viene de lo alto es, ante todo, pura; y además, pacífica, benévola y conciliadora; está llena de misericordia y dispuesta a hacer el bien; es imparcial y sincera. Un fruto de justicia se siembra pacíficamente para los que trabajan por la paz.
RE: Latest messages are at Holy Love Ministries and Ministerios del Amor Santo