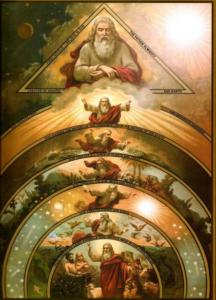 June 7, 2021
Once again, I (Maureen) see a Great Flame that I have come to know as the Heart of God the Father. He says: "Your conversion consists in making Jesus first in your hearts and so too, Me, your Papa God. This needs to be an ongoing attitude – one that is pursued in each present moment. It is a surrender of free will to My Divine Will. In so doing, the soul places Me and My Commandments first in his life. He becomes evermore conscious of his own weaknesses and vigilant of any sin or occasion of sin in his heart. A converted soul lives in the Truth."

"True conversion only ends when the soul reaches eternal life where the reward for his efforts awaits him. The converted soul is never satisfied with where he is spiritually, but is always searching for new ways to please Me. To such a soul, death is merely a transition – a realization of the fruits of his efforts."

Read Galatians 6:7-10+

Do not be deceived; God is not mocked, for whatever a man sows, that he will also reap. For he who sows to his own flesh will from the flesh reap corruption; but he who sows to the Spirit will from the Spirit reap eternal life. And let us not grow weary in well-doing, for in due season we shall reap, if we do not lose heart. So then, as we have opportunity, let us do good to all men, and especially to those who are of the household of faith.

+ Scripture verses asked to be read by God the Father.

 

7 de Junio del 2021
Nuevamente veo una gran llama que he llegado a reconocer como el Corazón de Dios Padre. Dice: "La conversión consiste en poner a Jesús en primer lugar en sus corazones y así, también, a Mí, su Papá Dios. Esto necesita ser una actitud continua; una actitud que se procure en cada momento presente. Es una rendición del libre albedrío a Mi Divina Voluntad. Al hacerlo, el alma me pone a Mí y a Mis mandamientos en primer lugar en su vida. Se hace cada vez más consciente de sus propias debilidades y está al pendiente de cualquier pecado u ocasión de pecado en su corazón. Un alma convertida vive en la verdad."

"La auténtica conversión solamente termina cuando el alma alcanza la vida eterna, en donde le espera la recompensa por sus esfuerzos. El alma convertida nunca está satisfecha del lugar en el que se encuentra espiritualmente, sino que siempre está buscando nuevas maneras de agradarme. Para un alma así, la muerte es meramente una transición; una realización de los frutos de sus esfuerzos."

Lean Gálatas 6:7-10




No se engañen: nadie se burla de Dios. Se recoge lo que se siembra: el que siembra para satisfacer su carne, de la carne recogerá sólo la corrupción; y el que siembra según el Espíritu, del Espíritu recogerá la Vida eterna. No nos cansemos de hacer el bien, porque la cosecha llegará a su tiempo si no desfallecemos. Por lo tanto, mientras estamos a tiempo hagamos el bien a todos, pero especialmente a nuestros hermanos en la fe.
RE: Latest messages are at Holy Love Ministries (www.holylove.org) and Ministerios del Amor Santo (www.amorsanto.com)