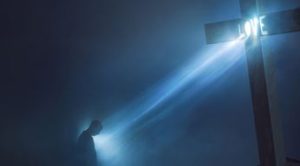 October 26, 2021
Once again, I (Maureen) see a Great Flame that I have come to know as the Heart of God the Father. He says: "Children, live your lives in a responsible way, always keeping in mind that you will be held accountable to Me for all your thoughts, words and actions. In this way, dedicate your lives to obedience to My Divine Will. This is how you will be able to surrender and accept all things as from My Hand."

"When your troubles multiply, remember, My Son* embraced His Cross ahead of you. His Cross was a grace for all humanity, opening the Gate of Heaven for all who would keep My Commandments.** Your crosses, children, make straight the path to your salvation. The cross you surrender to is your compass along the road of righteousness."

"I do not abandon those who carry many crosses. I send many graces to those who accept their crosses to aid them under the weight of each cross. I hold such souls away from despair and I send them angels to comfort them, just as I sent an angel to comfort My Son when He accepted His Cross in Gethsemane. It is your resistance to your crosses which stands between us. This is a difficult teaching, but one necessary to this life in the world."

Read Luke 22:42-43+

"Father, if you are willing, remove this chalice from me; nevertheless not my will, but yours, be done." And there appeared to him an angel from heaven, strengthening him.

+ Scripture verses asked to be read by God the Father.

 

26 de Octubre del 2021
Nuevamente veo una gran llama que he llegado a reconocer como el Corazón de Dios Padre. Dice: "Hijos, vivan de una manera responsable, recordando siempre que van a rendirme cuentas a Mí de todos sus pensamientos, palabras y acciones. Así, dediquen sus vidas a obedecer Mi Divina Voluntad. De esta manera podrán rendirse y aceptar todas las cosas como venidas de Mi Mano."

"Cuando sus problemas se multipliquen, recuerden que Mi Hijo abrazó Su Cruz antes que ustedes. Su Cruz fue una gracia para toda la humanidad, abriendo la puerta del Cielo para todos los que cumplan Mis mandamientos. Sus cruces, hijos, allanan el sendero de su salvación. La cruz a la que ustedes se rinden es su brújula en el camino de la rectitud."

"Yo no abandono a los que llevan muchas cruces. Yo envío abundantes gracias a los que aceptan sus cruces para ayudarlos bajo el peso de cada cruz. Yo sostengo a esas almas para que no se desesperen y les envío ángeles para consolarlos, tal como envié un ángel para consolar a Mi Hijo cuando aceptó Su Cruz en Getsemaní. Lo que se interpone entre nosotros es su resistencia a la cruz. Esta es una enseñanza difícil pero necesaria para esta vida en el mundo."

Lean Lucas 22:42-43




'Padre, si quieres, aleja de mí este cáliz. Pero que no se haga mi voluntad, sino la tuya'. Entonces se le apareció un ángel del cielo que lo reconfortaba.
RE: Latest messages are at Holy Love Ministries (www.holylove.org) and Ministerios del Amor Santo (www.amorsanto.com)