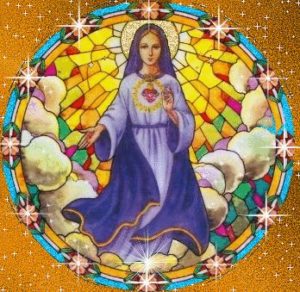 July 20, 2021
Once again, I (Maureen) see a Great Flame that I have come to know as the Heart of God the Father. He says: "Children, you see the necessity of being united in faith and in Truth. As heretics and unbelievers are given credence through the mass media, My Remnant must be a strong, united force in the support of the Truth. Your faith must be protected through Mary, Protectress of the Faith, to survive the decadence of unbelievers."

"Trust in Me when I tell you that evil is in the forefront – united towards perverse goals. The strength of My Remnant is unity in faith-filled prayer. Satan knows this and uses seemingly good people to undermine the Truth. The Holy Mother* is uniting the faithful in the Victory of Her Immaculate Heart. She is calling to each soul to enlist in Her Army of Truth."

Read Philippians 2:1-2+

So if there is any encouragement in Christ, any incentive of love, any participation in the Spirit, any affection and sympathy, complete my joy by being of the same mind, having the same love, being in full accord and of one mind.

Read 2 Timothy 4:1-5+

I charge you in the presence of God and of Christ Jesus who is to judge the living and the dead, and by his appearing and his kingdom: preach the word, be urgent in season and out of season, convince, rebuke, and exhort, be unfailing in patience and in teaching. For the time is coming when people will not endure sound teaching, but having itching ears they will accumulate for themselves teachers to suit their own likings, and will turn away from listening to the truth and wander into myths. As for you, always be steady, endure suffering, do the work of an evangelist, fulfil your ministry.

Read 2 Thessalonians 2:13-15+

But we are bound to give thanks to God always for you, brethren beloved by the Lord, because God chose you from the beginning to be saved, through sanctification by the Spirit and belief in the truth. To this he called you through our gospel, so that you may obtain the glory of our Lord Jesus Christ. So then, brethren, stand firm and hold to the traditions which you were taught by us, either by word of mouth or by letter.

+ Scripture verses asked to be read by God the Father.

 

20 de Julio del 2021
Nuevamente veo una gran llama que he llegado a reconocer como el Corazón de Dios Padre. Dice: "Hijos, vean la necesidad de estar unidos en la fe y en la verdad. Puesto que los herejes y los no creyentes son apoyados por los medios de comunicación, Mi Resto tiene que ser una fuerza sólida y unida en el apoyo a la verdad. Su fe tiene que estar protegida a través de María, Protectora de la Fe, para poder sobrevivir a la decadencia de los no creyentes."

"Confíen en Mí cuando les digo que el mal está en primera fila, unido para propósitos perversos. La fuerza de Mi Resto es la unión en la oración llena de fe. Satanás sabe esto y utiliza personas aparentemente buenas para debilitar la verdad. La Santa Madre está uniendo a los fieles en la victoria de Su Inmaculado Corazón. Ella está llamando a cada alma para que se enliste en Su ejército de la verdad."

Lean Filipenses 2:1-2




Si la exhortación en nombre de Cristo tiene algún valor, si algo vale el consuelo que brota del amor o la comunión en el Espíritu, o la ternura y la compasión, les ruego que hagan perfecta mi alegría, permaneciendo bien unidos. Tengan un mismo amor, un mismo corazón, un mismo pensamiento.

2ª Timoteo 4:1-5




Yo te conjuro delante de Dios y de Cristo Jesús, que ha de juzgar a los vivos y a los muertos, y en nombre de su Manifestación y de su Reino: proclama la Palabra de Dios, insiste con ocasión o sin ella, arguye, reprende, exhorta, con paciencia incansable y con afán de enseñar. Porque llegará el tiempo en que los hombres no soportarán más la sana doctrina; por el contrario, llevados por sus inclinaciones, se procurarán una multitud de maestros que les halaguen los oídos, y se apartarán de la verdad para escuchar cosas fantasiosas. Tú, en cambio, vigila atentamente, soporta todas las pruebas, realiza tu tarea como predicador del Evangelio, cumple a la perfección tu ministerio.

2ª Tesalonicenses 2:13-15
Nosotros, por nuestra parte, siempre debemos dar gracias a Dios, a causa de ustedes, hermanos amados por el Señor. En efecto, Dios los eligió desde el principio para que alcanzaran la salvación mediante la acción santificadora del Espíritu y la fe en la verdad. El los llamó, por medio de nuestro Evangelio, para que posean la gloria de nuestro Señor Jesucristo. Por lo tanto, hermanos, manténganse firmes y conserven fielmente las tradiciones que aprendieron de nosotros, sea oralmente o por carta.
RE: Latest messages are at Holy Love Ministries (www.holylove.org) and Ministerios del Amor Santo (www.amorsanto.com)