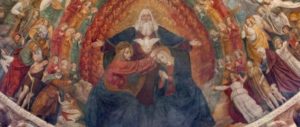 February 13, 2021
Once again, I (Maureen) see a Great Flame that I have come to know as the Heart of God the Father. He says: "Tomorrow is a holiday which celebrates love.* Let's reflect for a moment how different the world would be if every heart was ruled by Holy Love. First and foremost, I would be placed back in My rightful position as King and Creator – as the center of all good. Every soul would focus his earthly existence on earning his place in Heaven as he should. Charity would rule every heart and the world itself. Therefore, there would be no need for a nuclear arms race. Borders of countries would be respected. Worldly goods would be commonly shared with empathy towards all in need. Since Holy Love embodies My Commandments, obedience to My Commandments would be like a constitution for the entire world."

"Such a state of grace and peace would fill every heart. The endless search for happiness which consumes hearts today would be realized in a closer relationship with Me. I am describing to you a utopia on earth. However, free will chooses a different path. So, tomorrow will be marked by a celebration of love which does not fill hearts, but is continually grasped for. Your perfect love and joy rests in a perfection in personal holiness and love of Me."

Read 1 Corinthians 13:4-7,13+

Love is patient and kind; love is not jealous or boastful; it is not arrogant or rude. Love does not insist on its own way; it is not irritable or resentful; it does not rejoice at wrong, but rejoices in the right. Love bears all things, believes all things, hopes all things, endures all things. . . So faith, hope, love abide, these three; but the greatest of these is love.

+ Scripture verses asked to be read by God the Father.

 

13 de Febrero del 2021
Nuevamente veo una gran llama que he llegado a reconocer como el Corazón de Dios Padre. Dice: "Mañana es una fiesta que celebra el amor. Reflexionemos por un momento sobre lo diferente que sería el mundo si el Amor Santo gobernara cada corazón. Ante todo, me pondrían de vuelta en Mi legítimo lugar como Rey y Creador, como el centro de todo bien. Cada alma enfocaría su existencia terrenal en obtener su lugar en el Cielo como debería. La caridad mandaría en cada corazón y en el mundo mismo. Por consiguiente, no habría necesidad de una carrera de amas nucleares. Los bienes del mundo se compartirían mutuamente con empatía hacia todos los que tienen necesidad. Dado que el Amor Santo personifica Mis mandamientos, la obediencia a Mis mandamientos sería como una constitución para el mundo entero."

"Un estado de gracia y paz así llenaría cada corazón. La eterna búsqueda de la felicidad que consume hoy día a los corazones se realizaría a través de una relación más cercana Conmigo. Estoy describiéndoles una utopía en la tierra. Sin embargo, el libre albedrío elige un sendero diferente. Así que, el día de mañana estará marcado por una celebración del amor que no llena los corazones, sino que se busca continuamente. Su perfecto amor y gozo yace en una perfección en la santidad personal y en el amor por Mí."

Lean 1ª Corintios 13:4-7, 13




El amor es paciente, es servicial; el amor no es envidioso, no hace alarde, no se envanece, no procede con bajeza, no busca su propio interés, no se irrita, no tiene en cuenta el mal recibido, no se alegra de la injusticia, sino que se regocija con la verdad. El amor todo lo disculpa, todo lo cree, todo lo espera, todo lo soporta. …En una palabra, ahora existen tres cosas: la fe, la esperanza y el amor, pero la más grande de todas es el amor.
RE: Latest messages are at Holy Love Ministries and Ministerios del Amor Santo