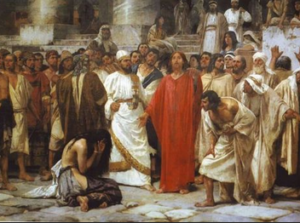 July 12, 2021
Once again, I (Maureen) see a Great Flame that I have come to know as the Heart of God the Father. He says: "Children, when you pray for world peace, your prayer should include a conviction of conscience in the heart of the world.* Until mankind can accurately discern good from evil, he will be unable to make righteous decisions that will affect the entire world. The whole reason I have given mankind the Ten Commandments was towards this end. Obedience to all My Commandments is the key to world peace."

"It is necessary that every nuance of each Commandment be understood.** This is the way to govern your earthly existence. Knowing this carries with it the responsibility to live accordingly. Bring My Commandments alive in your daily lives. Be an example to those around you of your efforts in holiness. To do so, is to answer My Call to a righteous life."

Read Colossians 2:6-7+

Fullness of Life in Christ

As therefore you received Christ Jesus the Lord, so live in him, rooted and built up in him and established in the faith, just as you were taught, abounding in thanksgiving.

+ Scripture verses asked to be read by God the Father. (Please note: all Scripture given by Heaven refers to the Bible used by the visionary. Ignatius Press – Holy Bible – Revised Standard Version – Second Catholic Edition.)

* A prayer given September 28, 2001 (https://www.holylove.org/message/1417/):

"Heavenly Father, during this time of world crisis, let all souls find their peace and security in Your Divine Will. Give each soul the grace to understand that Your Will is Holy Love in the present moment."

"Benevolent Father, illuminate each conscience to see the ways that he is not living in Your Will. Grant the world the grace to change and the time in which to do it.

Amen."

 

12 de Julio del 2021
Nuevamente veo una gran llama que he llegado a reconocer como el Corazón de Dios Padre. Dice: "Hijos, cuando recen por la paz del mundo, deben incluir en su oración que haya un convencimiento de conciencia en el corazón del mundo. Hasta que la humanidad no pueda discernir correctamente el bien del mal, no podrá tomar decisiones rectas que influyan en el mundo entero. La única razón por la que le di a la humanidad los Diez Mandamientos fue para ese fin. La obediencia a Mis mandamientos es la clave para la paz del mundo."

"Es necesario que se entiendan todos los matices de cada mandamiento. Esa es la manera de gobernar su existencia terrenal. Saber esto conlleva la responsabilidad de vivir en consecuencia. Que Mis mandamientos cobren vida en su día a día. Que sus esfuerzos en la santidad sean ejemplo para quienes están a su alrededor. Hacerlo es responder a Mi llamado a una vida recta."

Lean Colosenses 2:6-7




Vivan en Cristo Jesús, el Señor, tal como ustedes lo han recibido, arraigados y edificados en él, apoyándose en la fe que les fue enseñada y dando gracias constantemente.
RE: Latest messages are at Holy Love Ministries (www.holylove.org) and Ministerios del Amor Santo (www.amorsanto.com)