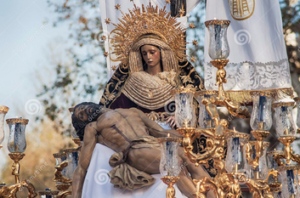 July 11, 2021
Once again, I (Maureen) see a Great Flame that I have come to know as the Heart of God the Father. He says: "Your nation* was founded upon Christian morality. Currently, it is under evil leadership. Sins have been blanketly approved and accepted by law. The truly righteous man is scoffed at and considered out of touch with the reality of the day. I am giving your nation and the world every opportunity to return to My Arms of Grace. Your leaders are not listening. My Arm of Just Wrath is only withheld now by the Arm of the Holy Mother,** who pleads for all of Her children still alive in the world today. Your prayers and sacrifices towards the Victory of Truth are what strengthens the Holy Mother's Arms."

"Do not be lulled into complacent acceptance of all the evils of these times. Never grow weary of praying for the conversion of the heart of the world. I assure you, My Paternal Heart is moved even by your slightest effort. Believe in the coming of the most evil one – the Antichrist. It is by trickery and deceit he will ascend his throne of evil. Those led by My Spirit will not be fooled. The good must unite before the darkest hour which I now foretell."

Read 2 Thessalonians 2:9-12+

The coming of the lawless one by the activity of Satan will be with all power and with pretended signs and wonders, and with all wicked deception for those who are to perish, because they refused to love the Truth and so be saved. Therefore, God sends upon them a strong delusion, to make them believe what is false, so that all may be condemned who did not believe the Truth but had pleasure in unrighteousness.

+ Scripture verses asked to be read by God the Father.

 

11 de Julio del 2021
Nuevamente veo una gran llama que he llegado a reconocer como el Corazón de Dios Padre. Dice: "Su Nación se fundó sobre la moral cristiana. Actualmente está bajo un liderazgo maligno. Los pecados han sido aprobados y aceptados globalmente por la ley. Se burlan del hombre verdaderamente recto y se le considera ajeno a la realidad actual. Le estoy dando a su Nación y al mundo todas las oportunidades de regresar a Mis Brazos de gracia. Sus líderes no están escuchando. Mi Brazo de la justa Ira es detenido ahora únicamente por el Brazo de la Santa Madre, quien ruega por todos Sus hijos que aún viven en el mundo de hoy. Sus oraciones y sacrificios por la victoria de la verdad es lo que fortalece los Brazos de la Santa Madre."

"No se dejen llevar por la aceptación complaciente de todos los males de estos tiempos. Nunca se cansen de rezar por la conversión del corazón del mundo. Yo les aseguro, Mi Corazón Paternal se conmueve incluso con su más mínimo esfuerzo. Crean en la venida del más maligno de todos: el anticristo. Él subirá a su trono del mal por medio de artimañas y engaños. Quienes son guiados por Mi Espíritu, no serán engañados. Los buenos tienen que unirse antes de la hora más oscura que ahora les anticipo."

Lean 2ª Tesalonicenses 2:9-12




La venida del Impío será provocada por la acción de Satanás y estará acompañada de toda clase de demostraciones de poder, de signos y falsos milagros, y de toda clase de engaños perversos, destinados a los que se pierden por no haber amado la verdad que los podía salvar. Por eso, Dios les envía un poder engañoso que les hace creer en la mentira, a fin de que sean condenados todos los que se negaron a creer en la verdad y se complacieron en el mal.
RE: Latest messages are at Holy Love Ministries (www.holylove.org) and Ministerios del Amor Santo (www.amorsanto.com)