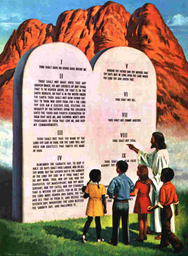 September 1, 2021
Once again, I (Maureen) see a Great Flame that I have come to know as the Heart of God the Father. He says: "Your salvation lies in loving Me, and through this love, loving My Commandments.* I cannot state it any more clearly than that. The vast majority of the people in the world today do not live according to this belief.""At each soul's judgment, it is not I who save or condemn, but the soul himself. Live according to Holy Love.** That alone is your salvation. The humblest, most simple soul finds this most easy. He can willingly denounce the joys and stature in the world for My sake."

"Every saint became holy by virtue of setting his priorities straight – placing love of Me first and above all else. Many these days, do not even know My Commandments, let alone obey them."

"Search your hearts each day to ascertain your progress in holiness. Each day, choose a special sacrifice or prayer to offer Me to help balance the scale between good and evil. I already love you for that."

Read 1 John 3:18-24+

Little children, let us not love in word or speech but in deed and in truth. By this we shall know that we are of the truth, and reassure our hearts before him whenever our hearts condemn us; for God is greater than our hearts, and he knows everything. Beloved, if our hearts do not condemn us, we have confidence before God; and we receive from him whatever we ask, because we keep his commandments and do what pleases him. And this is his commandment, that we should believe in the name of his Son Jesus Christ and love one another, just as he has commanded us. All who keep his commandments abide in him, and he in them. And by this we know that he abides in us, by the Spirit which he has given us.

+ Scripture verses asked to be read by God the Father.

 

1º de Septiembre del 2021
Nuevamente veo una gran llama que he llegado a reconocer como el Corazón de Dios Padre. Dice: "Su salvación radica en amarme a Mí y, por ese amor, amar Mis mandamientos. No puedo decirlo más claro. La gran mayoría de las personas en el mundo de hoy no vive conforme a esta creencia.""En el juicio de cada alma, no soy Yo quien salva o condena, sino el alma misma. Vivan conforme al Amor Santo. Únicamente eso es su salvación. El alma más humilde y sencilla encuentra esto muy fácil. De buena gana puede rechazar el gozo y prestigio del mundo por Mí."

"Todos los santos lograron la santidad gracias a que establecieron sus prioridades correctamente; poniendo el amor por Mí en primer lugar y sobre todas las cosas. En la actualidad, muchos ni siquiera conocen Mis mandamientos, y mucho menos los obedecen."

"Examinen sus corazones todos los días para darse cuenta de su progreso en la santidad. Cada día, elijan ofrecerme un sacrificio especial o una oración para ayudar a nivelar la balanza entre el bien y el mal. Ya los amo por eso."

Lean 1ª Juan 3:18-24




Hijitos míos, no amemos con la lengua y de palabra, sino con obras y de verdad. En esto conoceremos que somos de la verdad, y estaremos tranquilos delante de Dios, aunque nuestra conciencia nos reproche algo, porque Dios es más grande que nuestra conciencia y conoce todas las cosas. Queridos míos, si nuestro corazón no nos hace ningún reproche, podemos acercarnos a Dios con plena confianza, y él nos concederá todo cuanto le pidamos, porque cumplimos sus mandamientos y hacemos lo que le agrada. Su mandamiento es este: que creamos en el nombre de su Hijo Jesucristo, y nos amemos los unos a los otros como él nos ordenó. El que cumple sus mandamientos permanece en Dios, y Dios permanece en él; y sabemos que él permanece en nosotros, por el Espíritu que nos ha dado.
RE: Latest messages are at Holy Love Ministries (www.holylove.org) and Ministerios del Amor Santo (www.amorsanto.com)