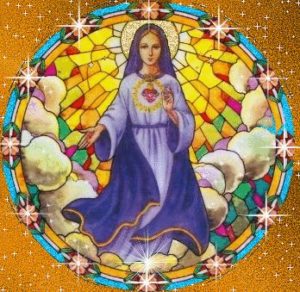 December 26, 2021
Once again, I (Maureen) see a Great Flame that I have come to know as the Heart of God the Father. He says: "Children, in time, as it moves on, the season of Christmas is passing. I invoke you, keep the Spirit of Christmas in your hearts. This is the season of love of God and neighbor. My Paternal Heart is warmed by the affection even the lukewarm souls have shown Me as they contemplate the Nativity scenes in the world during this season. All you need to attain your salvation is a heartfelt commitment to living in Holy Love."**

"Do not be distracted by the worldly aspect of the season. Everything is passing except what is spiritual. Soon every gift becomes commonplace and forgotten as something new and different. It is the Holy Love in your hearts that renews your purpose of life. We will move on together if you are one with My Will for you."

"Treasure the memories of Christmas, but live on in Holy Love in the present."

Read Colossians 3:1-4+

If then you have been raised with Christ, seek the things that are above, where Christ is, seated at the right hand of God. Set your minds on things that are above, not on things that are on earth. For you have died, and your life is hid with Christ in God. When Christ who is our life appears, then you also will appear with him in glory.

+Scripture verses asked to be read by God the Father.

 

26 de Diciembre del 2021
Nuevamente veo una gran llama que he llegado a reconocer como el Corazón de Dios Padre. Dice: "Hijos, a medida que avanza el tiempo, la época de la Navidad va pasando. Yo los exhorto a que conserven el espíritu de la Navidad en sus corazones. Esta es la época del amor a Dios y al prójimo. Mi Corazón Paternal se reconforta con el cariño que incluso las almas tibias me han mostrado mientras contemplan los belenes en el mundo durante esta época. Todo lo que necesitan para alcanzar su salvación es un compromiso sincero para vivir en Amor Santo."

"No se distraigan con el aspecto mundano de la temporada. Todo es pasajero excepto lo que es espiritual. Pronto, todos los regalos se vuelven habituales y dejan de ser algo nuevo y diferente. El Amor Santo en sus corazones es lo que renueva su propósito en la vida. Avanzaremos juntos si son uno con Mi Voluntad para ustedes."

"Atesoren los recuerdos de la Navidad, pero vivan en Amor Santo en el presente."

Lean Colosenses 3:1-4
Ya que ustedes han resucitado con Cristo, busquen los bienes del cielo donde Cristo está sentado a la derecha de Dios. Tengan el pensamiento puesto en las cosas celestiales y no en las de la tierra. Porque ustedes están muertos, y su vida está desde ahora oculta con Cristo en Dios. Cuando se manifieste Cristo, que es nuestra vida, entonces ustedes también aparecerán con él, llenos de gloria.
RE: Latest messages are at Holy Love Ministries (www.holylove.org) and Ministerios del Amor Santo (www.amorsanto.com)