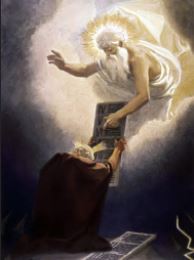 May 28, 2022
Once again, I (Maureen) see a Great Flame that I have come to know as the Heart of God the Father. He says: "Children, always support the Truth. The Truth being that obedience to My Commandments* is salvific. Therefore, it is necessary towards the soul's salvation that he knows the Commandments and every behavior they concern. Ignorance is not an excuse, only a telltale sign that not much effort was put forth into earning salvation."

"Make the time to be a child of obedience. All else leads to perdition."




Read 1 John 3:24+




All who keep his commandments abide in him, and he in them. And by this we know that he abides in us, by the Spirit which he has given us.




+ Scripture verses asked to be read by God the Father.

 

28 de Mayo del 2022
Nuevamente veo una gran llama que he llegado a reconocer como el Corazón de Dios Padre. Dice: "Hijos, apoyen siempre la verdad. Siendo la verdad que la obediencia a Mis mandamientos es salvífica. Por lo tanto, para su salvación, es necesario que el alma conozca los mandamientos y todo comportamiento relacionado con ellos. La ignorancia no es una excusa, sino un signo revelador de que no se hizo mucho esfuerzo por ganar la salvación."

"Tomen el tiempo de ser hijos de la obediencia. Todo lo demás lleva a la perdición."

Lean 1ª Juan 3:24




El que cumple sus mandamientos permanece en Dios, y Dios permanece en él; y sabemos que él permanece en nosotros, por el Espíritu que nos ha dado.
RE: Latest messages are at Holy Love Ministries (www.holylove.org) and Ministerios del Amor Santo (www.amorsanto.com)