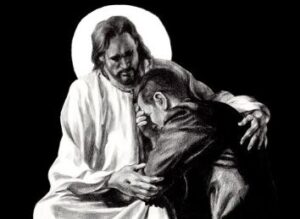 October 17, 2022
Once again, I (Maureen) see a Great Flame that I have come to know as the Heart of God the Father. He says: "Children, every present moment is an opportunity to become more holy or less holy, according to your choices. Become accustomed to accepting My Will in all situations. This requires depth in every virtue. You must be patient enough to see how My Will plays out in the long run. This requires trust in My Love for you. If you believe in My Love for you, then you, at the same time believe that all things which I permit lead to your salvation."

"Live in this way and you will be at peace. You will trust Me."

Read Psalm 9:9-10+




The LORD is a stronghold for the oppressed, a stronghold in times of trouble. And those who know your name put their trust in you, for you, O LORD, have not forsaken those who seek you.

Read Psalm 11:6-7+
On the wicked he will rain coals of fire and brimstone; a scorching wind shall be the portion of their cup. For the LORD is righteous, he loves righteous deeds; the upright shall behold his face.
+ Scripture verses asked to be read by God the Father.

 

17 de Octubre del 2022
Nuevamente veo una gran llama que he llegado a reconocer como el Corazón de Dios Padre. Dice: "Hijos, cada momento presente es una oportunidad para ser más o menos santos, según sus decisiones. Acostúmbrense a aceptar Mi Voluntad en todas las situaciones. Esto requiere profundizar en cada virtud. Ustedes tienen que ser lo suficientemente pacientes para ver cómo se desarrolla Mi Voluntad a largo plazo. Esto requiere confianza en Mi amor por ustedes. Si creen en Mi amor por ustedes, entonces, al mismo tiempo, creen que todas las cosas que Yo permito conducen a su salvación."

"Vivan de esta forma, y estarán en paz. Confiarán en Mí."

Lean Salmo 9:10-11




El Señor es un baluarte para el oprimido, un baluarte en los momentos de peligro. ¡Confíen en ti los que veneran tu Nombre, porque tú no abandonas a los que te buscan!
RE: Latest messages are at Holy Love Ministries (www.holylove.org) and Ministerios del Amor Santo (www.amorsanto.com)