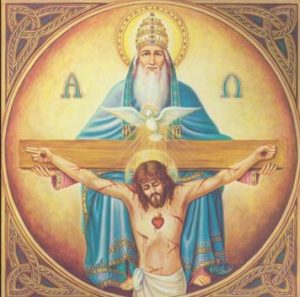 Once again, I (Maureen) see a Great Flame that I have come to know as the Heart of God the Father. He says: "I am the Father of Abraham, Isaac and Jacob. I come to pronounce the path of righteousness, peace and Truth."

"Corruption of the heart begins with too much self-interest. This leads to the compromise of Truth and the abuse of authority. Corruption is insidious – beginning in an unnoticed way and deepening with every decision. So, it is, you have corrupt leaders, governments and regimes."

"You will never have peace in the world so long as you have corruption in hearts. Each one must look to the best interests of others with meekness and patience. This unselfishness is the key to peace. Be reconciled with My Will in such a way." (12/5/2017)

Read 1 Peter 1:22-23+

Having purified your souls by your obedience to the truth for a sincere love of the brethren, love one another earnestly from the heart. You have been born anew, not of perishable seed but of imperishable, through the living and abiding word of God.

+ Scripture verses asked to be read by God the Father.

Nuevamente veo una gran llama que he llegado a reconocer como el Corazón de Dios Padre. Dice: "Yo soy el Padre de Abraham, de Isaac y de Jacob. Vengo para proclamar el sendero de la rectitud, de la paz y la verdad."

"La corrupción del corazón empieza con un interés propio excesivo. Eso lleva a la negociación de la verdad y al abuso de autoridad. La corrupción es insidiosa; empieza de una forma imperceptible y se incrementa con cada decisión. Así, entonces, ustedes tienen líderes, gobiernos y regímenes corruptos."

"Nunca tendrán paz en el mundo mientras haya corrupción en el corazón. Cada uno tiene que buscar los mejores intereses de los demás con mansedumbre y paciencia. Esta generosidad es la clave para la paz. Reconcíliense con Mi Voluntad de esa manera."

Lean 1ª Pedro 1:22-23
Por su obediencia a la verdad, ustedes se han purificado para amarse sinceramente como hermanos. Ámense constantemente los unos a los otros con un corazón puro, como quienes han sido engendrados de nuevo, no por un germen corruptible, sino incorruptible: la Palabra de Dios, viva y eterna.
RE: Latest messages are at Holy Love Ministries and Ministerios del Amor Santo