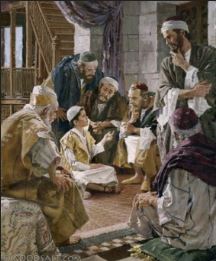 July 20, 2022
Once again, I (Maureen) see a Great Flame that I have come to know as the Heart of God the Father. He says: "Children, today, I invite you to contemplate the anguish of the Holy Mother* as She and St. Joseph searched for the Child Jesus for three days before finding Him in the Temple. What joy and peace must have flooded the Holy Mother's Heart when She at last laid eyes on Him! The Holy Mother rejoices in a similar way when She finds one of you, My children, engaged in good work and edifying those whom you encounter. It is then, the warmth of your response to those around you floods Her Heart, as well. Moments such as these are deserving of Her eternal embrace."

Read Luke 2:41-51+




The Boy Jesus in the Temple




Now his parents went to Jerusalem every year at the feast of the Passover. And when he was twelve years old, they went up according to custom; and when the feast was ended, as they were returning, the boy Jesus stayed behind in Jerusalem. His parents did not know it, but supposing him to be in the company they went a day's journey, and they sought him among their kinsfolk and acquaintances; and when they did not find him, they returned to Jerusalem, seeking him. After three days they found him in the temple, sitting among the teachers, listening to them and asking them questions; and all who heard him were amazed at his understanding and his answers. And when they saw him they were astonished; and his mother said to him, "Son, why have you treated us so? Behold, your father and I have been looking for you anxiously." And he said to them, "How is it that you sought me? Did you not know that I must be in my Father's house?" And they did not understand the saying which he spoke to them. And he went down with them and came to Nazareth, and was obedient to them; and his mother kept all these things in her heart.

+ Scripture verses asked to be read by God the Father.

 

20 de Julio del 2022
Nuevamente veo una gran llama que he llegado a reconocer como el Corazón de Dios Padre. Dice: "Hijos, el día de hoy los invito a contemplar la angustia de la Santísima Madre cuando Ella y San José buscaron durante tres días al Niño Jesús antes de encontrarlo en el Templo. ¡Qué alegría y paz debieron haber inundado el Corazón de la Santísima Madre cuando al fin lo vio! De forma similar, la Santísima Madre se alegra cuando encuentra a alguno de ustedes, hijos Míos, participando en buenas obras y edificando a aquellos con quienes se encuentran. Es entonces cuando la calidez de su respuesta a aquellos que los rodean inunda también Su Corazón. Momentos como estos merecen Su abrazo eterno."

Lean Lucas 2:41-51




Sus padres iban todos los años a Jerusalén en la fiesta de la Pascua. Cuando el niño cumplió doce años, subieron como de costumbre, y acabada la fiesta, María y José regresaron, pero Jesús permaneció en Jerusalén sin que ellos se dieran cuenta. Creyendo que estaba en la caravana, caminaron todo un día y después comenzaron a buscarlo entre los parientes y conocidos. Como no lo encontraron, volvieron a Jerusalén en busca de él. Al tercer día, lo hallaron en el Templo en medio de los doctores de la Ley, escuchándolos y haciéndoles preguntas. Y todos los que lo oían estaban asombrados de su inteligencia y sus respuestas. Al verlo, sus padres quedaron maravillados y su madre le dijo: 'Hijo mío, ¿por qué nos has hecho esto? Piensa que tu padre y yo te buscábamos angustiados'. Jesús les respondió: '¿Por qué me buscaban? ¿No sabían que yo debo ocuparme de los asuntos de mi Padre?'. Ellos no entendieron lo que les decía. Él regresó con sus padres a Nazaret y vivía sujeto a ellos. Su madre conservaba estas cosas en su corazón. Jesús iba creciendo en sabiduría, en estatura y en gracia delante de Dios y de los hombres.
RE: Latest messages are at Holy Love Ministries (www.holylove.org) and Ministerios del Amor Santo (www.amorsanto.com)