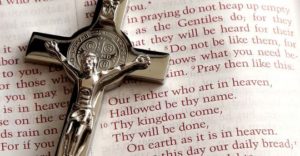 Once again, I (Maureen) see a Great Flame that I have come to know as the Heart of God the Father. He says: "Children, it is a mistake to separate your spiritual life from your everyday duties in the world. Your relationship with Me bears weight upon all other aspects of your life. The closer you are to My Paternal care, the more profound My Provision in your daily life. If you live without a relationship with Me, I draw apart from you and all the circumstances of your earthly existence."

"I desire a greater part in the affairs of the heart of the world. Decisions that are made without My input spell disaster. Allow Me to be your loving Father. Abandon the false gods that have taken charge of the Middle East and in many hearts in the west in the form of materialism. Islam is thriving mainly due to their pro-life standards, while those who call themselves Christians practice birth control and abortion. This serves to weaken the rank and file of Christianity. Treasure the life I give. Many great leaders have been aborted."

"So, today, I speak to all people and all nations. The way out of every problem is to turn to Me. Then, I will turn challenges into victories." (6/10/2019)

Read Jude 17-23+

Warnings and Exhortations

But you must remember, beloved, the predictions of the apostles of our Lord Jesus Christ; they said to you, "In the last time there will be scoffers, following their own ungodly passions." It is these who set up divisions, worldly people, devoid of the Spirit. But you, beloved, build yourselves up on your most holy faith; pray in the Holy Spirit; keep yourselves in the love of God; wait for the mercy of our Lord Jesus Christ unto eternal life. And convince some, who doubt; save some, by snatching them out of the fire; on some have mercy with fear, hating even the garment spotted by the flesh.

+ Scripture verses asked to be read by God the Father.

Nuevamente veo una gran llama que he llegado a reconocer como el Corazón de Dios Padre. Dice: "Hijos, es un error separar su vida espiritual de sus deberes cotidianos en el mundo. Su relación Conmigo repercute en todos los demás aspectos de su vida. Mientras más cerca estén de Mi cuidado paternal, más grande Mi Provisión en su vida diaria. Si ustedes viven sin tener una relación Conmigo, Yo me retiro de ustedes y de todas las circunstancias de su existencia terrenal."

"Yo quiero una mayor participación en los asuntos del corazón del mundo. Las decisiones que se toman sin Mi aportación equivalen a desastre. Permítanme a Mí ser su Padre amoroso. Abandonen los falsos dioses que se han apoderado del Medio Oriente y de muchos corazones de occidente mediante el materialismo. El islam prospera principalmente debido a sus normas provida, mientras que aquellos que se hacen llamar cristianos practican el control natal y el aborto. Esto sirve para debilitar los cimientos del cristianismo. Atesoren la vida que Yo doy. Muchos grandes líderes han sido abortados."

"Así que hoy le hablo a toda la gente y a todas las naciones. La solución a cada problema es acudir a Mí. Entonces, Yo cambiaré los desafíos en victorias."

Lean Judas 17-23
En cuanto a ustedes, queridos míos, acuérdense de lo que predijeron los Apóstoles de nuestro Señor Jesucristo. Ellos les decían: "En los últimos tiempos habrá gente que se burlará de todo y vivirá de acuerdo con sus pasiones impías". Estos son los que provocan divisiones, hombres sensuales que no poseen el Espíritu. Pero ustedes, queridos míos, edifíquense a sí mismos sobre el fundamento de su fe santísima, orando en el Espíritu Santo. Manténganse en el amor de Dios, esperando la misericordia de nuestro Señor Jesucristo para la Vida eterna. Traten de convencer a los que tienen dudas, y sálvenlos librándolos del fuego. En cuanto a los demás, tengan piedad de ellos, pero con cuidado, aborreciendo hasta la túnica contaminada por su cuerpo.
RE: Latest messages are at Holy Love Ministries and Ministerios del Amor Santo