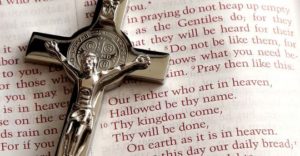 Once again, I (Maureen) see a Great Flame that I have come to know as the Heart of God the Father. He says: "Children, the Remnant is not something to be formed all of a sudden or off in the future. It is already in hearts. There will not be a specific date of its inception. It will gradually form as the radical, freethinking Church pulls away from the conservative Church that supports the Truth."

"You will witness hierarchy supporting what heretofore was considered errors. I tell you this so that you can make the effort to cling to Tradition. Difficulties lie in the opinions of others who will point to freethinking radicals as examples."

"My Remnant will reach around the world, though it will not have specific sites or buildings. Just as it is present now in hearts, so it will be in the future. Its membership will grow. Its members will recognize each other by what is reflected in hearts. I will always protect the Remnant." (10/9/2018)

Read Psalm 4:1-3+

Answer me when I call, O God of my right!
You have given me room when I was in distress.
Be gracious to me, and hear my prayer.

O sons of men, how long will you be dull of heart?
How long will you love vain words, and seek after lies?

But know that the Lord has set apart the godly for himself;
the Lord hears when I call to him.

+ Scripture verses asked to be read by God the Father. 

Nuevamente veo una gran llama que he llegado a reconocer como el Corazón de Dios Padre. Dice: "Hijos, el Resto no es algo que se vaya a formar repentinamente ni en un futuro muy lejano. El Resto ya está en los corazones. No habrá una fecha específica de su comienzo. Se formará gradualmente conforme la Iglesia librepensadora radical se separe de la Iglesia conservadora que apoya la verdad."

"Ustedes verán a la jerarquía apoyando lo que hasta ahora se consideraban como errores. Les digo esto para que puedan hacer el esfuerzo de aferrarse a la Tradición. El problema está en las opiniones de los demás que ponen como ejemplo a los librepensadores radicales."

"Mi Resto llegará a todo el mundo, pero no habrá lugares o instalaciones específicas. Así como ahora está presente en los corazones, así lo estará en el futuro. Sus afiliados aumentarán. Sus miembros se reconocerán unos a otros por lo que reflejen sus corazones. Yo siempre protegeré al Resto."

Lean Salmo 4:2-4
Respóndeme cuando te invoco, Dios, mi defensor, tú, que en la angustia me diste un desahogo: ten piedad de mí y escucha mi oración. Y ustedes, señores, ¿hasta cuando ultrajarán al que es mi Gloria, amarán lo que es falso y buscarán lo engañoso? Sepan que el Señor hizo maravillas por su amigo: él me escucha siempre que lo invoco.
RE: Latest messages are at Holy Love Ministries and Ministerios del Amor Santo
Download e-Book!                                                                            ¡Descargar E-Libro!