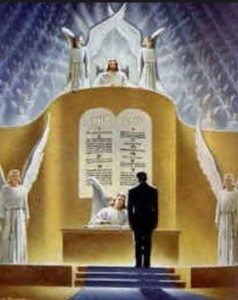 Once again, I (Maureen) see a Great Flame that I have come to know as the Heart of God the Father. He says: "Children, the beginning and the end are in the present moment. The beginning of My Victory both in hearts and in the world is ever-present, as is the end of Satan's reign of terror in the world. Choose My Victory which is clearly defined for you in My Commandments."

"Do not be disturbed by Satan's small victories. He will not win the war. Each soul's 'yes' to obeying My Commandments is a defeat for Satan. The evil one does not want you to be encouraged as far as the course of human events. Never has it been more clear as to the choices between good and evil. Do not be surprised as to where you find Satan's influence in the world these days. He is desperate. He knows that he faces extinction. Continue in your prayer efforts. Be united as a Remnant Faithful. Challenge your opposition, for it is evil in every instance." (11/28/2018)

Read Ephesians 4:1-6+

I therefore, a prisoner for the Lord, beg you to walk in a manner worthy of the calling to which you have been called, with all lowliness and meekness, with patience, forbearing one another in love, eager to maintain the unity of the Spirit in the bond of peace. There is one body and one Spirit, just as you were called to the one hope that belongs to your call, one Lord, one faith, one baptism, one God and Father of us all, who is above all and through all and in all.

+ Scripture verses asked to be read by God the Father.

Nuevamente veo una gran llama que he llegado a reconocer como el Corazón de Dios Padre. Dice: "Hijos, el principio y el fin están en el momento presente. El principio de Mi victoria, tanto en los corazones como en el mundo, está siempre presente, como lo está el fin del reino de terror de Satanás en el mundo. Elijan Mi victoria, la cual está definida claramente para ustedes en Mis mandamientos."

"Que no los molesten las pequeñas victorias de Satanás. Él no va a ganar la guerra. El 'sí' de cada alma a obedecer Mis mandamientos es una derrota para Satanás. El maligno no quiere que ustedes reciban ánimo en cuanto al rumbo de los acontecimientos humanos. Nunca habían estado tan claras las decisiones entre lo bueno y lo malo. No se asombren por el lugar en donde encuentran la influencia de Satanás en el mundo hoy día. Él está desesperado. Sabe que enfrenta la extinción. Sigan con sus esfuerzos de oración. Estén unidos como un Resto Fiel. Cuestionen a quien se les oponga, pues en todos los casos se trata del mal."

Lean Efesios 4:1-6
Yo, que estoy preso por el Señor, los exhorto a comportarse de una manera digna de la vocación que han recibido. Con mucha humildad, mansedumbre y paciencia, sopórtense mutuamente por amor. Traten de conservar la unidad del Espíritu, mediante el vínculo de la paz. Hay un solo Cuerpo y un solo Espíritu, así como hay una misma esperanza, a la que ustedes han sido llamados, de acuerdo con la vocación recibida. Hay un solo Señor, una sola fe, un solo bautismo. Hay un solo Dios y Padre de todos, que está sobre todos, lo penetra todo y está en todos.
RE: Latest messages are at Holy Love Ministries and Ministerios del Amor Santo