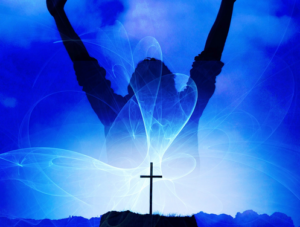 April 7, 2022
Once again, I (Maureen) see a Great Flame that I have come to know as the Heart of God the Father. He says: "Children, do not waste the present moment by closing your heart to the grace that each moment offers. Perhaps it is forgiveness of self and others. Accept it. Do not go to your judgment carrying the burden of a grudge. Perhaps the present offers victory over a certain occasion of sin. Grasp it. The present moment will never be repeated with the same graces and opportunities."

"Pray to recognize each grace as it comes to you no matter how small. Seize the present in order to be prepared for the future. Do not waste time conjecturing what may happen and preparing for attacks which may never occur. Surrender the present to all the grace I give you in the present – that is your preparation for the future. Then trust in my mercy."

Read Galatians 6:7-10+




Do not be deceived; God is not mocked, for whatever a man sows, that he will also reap. For he who sows to his own flesh will from the flesh reap corruption; but he who sows to the Spirit will from the Spirit reap eternal life. And let us not grow weary in well-doing, for in due season we shall reap, if we do not lose heart. So then, as we have opportunity, let us do good to all men, and especially to those who are of the household of faith.




+ Scripture verses asked to be read by God the Father.

 

7 de Abril del 2022
Nuevamente veo una gran llama que he llegado a reconocer como el Corazón de Dios Padre. Dice: "Hijos, no desperdicien el momento presente cerrando el corazón a la gracia que cada momento ofrece. Tal vez esta gracia es el perdón a sí mismos o a los demás. Acéptenla. No vayan a su juicio cargando el peso de un resentimiento. Quizá el presente ofrece la victoria sobre determinada ocasión de pecado. Aprovéchenla. El momento presente nunca se repetirá con las mismas gracias y oportunidades."

"Recen para reconocer cada gracia conforme les llegue, independientemente de lo pequeña que sea. Aprovechen el presente para poder estar preparados para el futuro. No desperdicien el tiempo haciendo conjeturas de lo que puede suceder y preparándose para ataques que tal vez nunca sucedan. Rindan el presente a toda la gracia que Yo les doy en el presente; esa es su preparación para el futuro. Entonces confíen en Mi misericordia."

Lean Gálatas 6:7-10




No se engañen: nadie se burla de Dios. Se recoge lo que se siembra: el que siembra para satisfacer su carne, de la carne recogerá sólo la corrupción; y el que siembra según el Espíritu, del Espíritu recogerá la Vida eterna. No nos cansemos de hacer el bien, porque la cosecha llegará a su tiempo si no desfallecemos. Por lo tanto, mientras estamos a tiempo hagamos el bien a todos, pero especialmente a nuestros hermanos en la fe.
RE: Latest messages are at Holy Love Ministries (www.holylove.org) and Ministerios del Amor Santo (www.amorsanto.com)