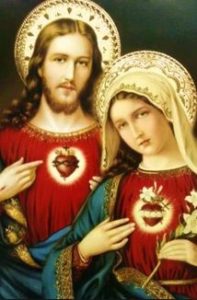 Blessed Virgin Mary
June 3, 2022
The Blessed Virgin Mary says: "Praise be to Jesus."

"Dear children, during this month dedicated to My Son's* Most Sacred Heart, pay homage to the Heart of your Lord – the source of all good inspirations. My Son passes all grace in and through My Immaculate Heart wherein I pass on to mankind the grace of each present moment. Give honor to the God of the present moment and in turn He will inspire your heart towards all good. Our Hearts are always together – United. When you pay heed to one Heart, your prayer is confided to the Other."

"There is no grace left unattended in either of Our Hearts. There is no need left behind in your honoring of either of Our Hearts. When you display an image of Our United Hearts** in your homes, We are both there – blessing you. Evil flees from the Image of Our United Hearts."

Read Philippians 4:4-7+

Rejoice in the Lord always; again I will say, Rejoice. Let all men know your forbearance. The Lord is at hand. Have no anxiety about anything, but in everything by prayer and supplication with thanksgiving let your requests be made known to God. And the peace of God, which passes all understanding, will keep your hearts and your minds in Christ Jesus.

+ Scripture verses asked to be read by the Blessed Virgin Mary.

 

3 de Junio del 2022
La Santísima Virgen María dice: "Alabado sea Jesús."

"Queridos hijos, durante este mes dedicado al Sacratísimo Corazón de Mi Hijo, rindan homenaje al Corazón de su Señor; la fuente de todas las buenas inspiraciones. Mi Hijo pasa todas las gracias a través de Mi Inmaculado Corazón desde donde Yo transmito la gracia de cada momento presente a la humanidad. Honren al Dios del momento presente, y Él, a su vez, inspirará a sus corazones hacia todo lo bueno. Nuestros Corazones siempre están juntos; están unidos. Cuando ustedes atienden a un Corazón, su oración es confiada al otro Corazón."

"No hay gracia que quede sin atender en alguno de Nuestros Corazones. Ninguna necesidad queda abandonada cuando adoran alguno de Nuestros Corazones. Cuando exhiben una imagen de Nuestros Corazones Unidos en sus casas, los dos estamos ahí, bendiciéndolos. El mal huye de la imagen de Nuestros Corazones Unidos."

Lean Filipenses 4:4-7




Alégrense siempre en el Señor. Vuelvo a insistir, alégrense. Que la bondad de ustedes sea conocida por todos los hombres. El Señor está cerca. No se angustien por nada, y en cualquier circunstancia, recurran a la oración y a la súplica, acompañadas de acción de gracias, para presentar sus peticiones a Dios. Entonces la paz de Dios, que supera todo lo que podemos pensar, tomará bajo su cuidado los corazones y los pensamientos de ustedes en Cristo Jesús.
RE: Latest messages are at Holy Love Ministries (www.holylove.org) and Ministerios del Amor Santo (www.amorsanto.com)