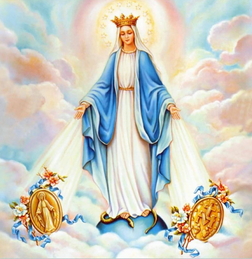 God The Father
Feast of Our Lady of the Miraculous Medal – First Sunday of Advent
November 27, 2022
Once again, I (Maureen) see a Great Flame that I have come to know as the Heart of God the Father. He says: "Children, restore the present moment in your hearts by asking Me to show you each present-moment grace. Each grace is different in its coming and in its activity in your hearts. Each grace has its own reward, its own enlightenment. I have individual ways of drawing each heart back to the candor of the Truth of where each soul needs to be and how he can come closer to Me. For the goal of personal holiness is an ever-deepening relationship with Me. There are individual ways of achieving this lofty goal. So, when you pray for someone's conversion, pray that first and foremost they desire to come closer to Me."

Read Hebrews 3:12-15+




Take care, brethren, lest there be in any of you an evil, unbelieving heart, leading you to fall away from the living God. But exhort one another every day, as long as it is called "today," that none of you may be hardened by the deceitfulness of sin. For we share in Christ, if only we hold our first confidence firm to the end, while it is said, "Today, when you hear his voice, do not harden your hearts as in the rebellion."

+ Scripture verses asked to be read by Blessed Virgin Mary.

 

27 de Noviembre del 2022
Nuevamente veo una gran llama que he llegado a reconocer como el Corazón de Dios Padre. Dice: "Hijos, restauren el momento presente en sus corazones pidiéndome que les muestre la gracia de cada momento presente. Cada gracia es diferente en su llegada y en su actividad en sus corazones. Cada gracia tiene su propia recompensa, su propia iluminación. Yo tengo formas individuales para atraer a cada corazón de regreso al candor de la verdad de donde cada alma necesita estar y de cómo puede acercarse más a Mí. Porque la meta de la santidad personal es una relación cada vez más profunda Conmigo. Hay maneras individuales de lograr este noble objetivo. Así que, cuando recen por la conversión de una persona, pidan para que, ante todo, desee acercarse más a Mí."

Lean Hebreos 3:12-15




Tengan cuidado, hermanos, no sea que alguno de ustedes tenga un corazón tan malo que se aparte del Dios viviente por su incredulidad. Antes bien, anímense mutuamente cada día mientras dure este hoy, a fin de que nadie se endurezca, seducido por el pecado. Porque hemos llegado a ser partícipes de Cristo, con tal que mantengamos firmemente hasta el fin nuestra actitud inicial. Cuando la Escritura dice: 'Si hoy escuchan su voz, no endurezcan su corazón como en el tiempo de la Rebelión'.
RE: Latest messages are at Holy Love Ministries (www.holylove.org) and Ministerios del Amor Santo (www.amorsanto.com)