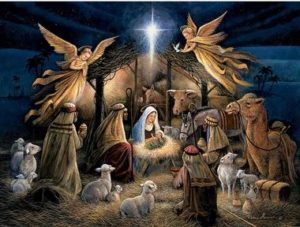 December 13, 2021
Once again, I (Maureen) see a Great Flame that I have come to know as the Heart of God the Father. He says: "During the remaining days of this Advent Season, prepare your hearts for the birth of My Son* with expectant faith and joy. Be childlike in anticipation of this great event. Empty your hearts of worry and concern and allow Me to fill your hearts with the grace of the season. Everything else surrounding the season, decorations – gifts – are passing like a leaf in the wind. All that remains is the Presence of My Infant Son as He filled the manger on Christmas. Your prayers and sacrifices are like the straws that support His fragile Body. Your faith surrounds Him and warms Him like the swaddling clothes."

"Participate in this joyous Holiday by making it real in your hearts through your faith, prayers and sacrifices."

Read Luke 2:6-7+

And while they were there, the time came for her to be delivered. And she gave birth to her first-born* son and wrapped him in swaddling cloths, and laid him in a manger, because there was no place for them in the inn.

*2:7 first-born: A legal term linked with a son's social standing and rights of inheritance (Deut 21:15-17). It does not imply that Mary had other children after Jesus, only that she had none before him (CCC 500). As the only begotten One, Jesus is also the first-born Son of the Father (Jn 1:18; Col 1:15). See note on Mt 12:46.

+ Scripture verses asked to be read by God the Father.

 

13 de Diciembre del 2021
Nuevamente veo una gran llama que he llegado a reconocer como el Corazón de Dios Padre. Dice: "En los días que restan de este tiempo de Adviento, preparen sus corazones con fe y alegría expectantes para el nacimiento de Mi Hijo. Sean como niños esperando este gran acontecimiento. Vacíen sus corazones de inquietudes y preocupaciones, y dejen que Yo los llene con la gracia de este tiempo. Todo lo demás que rodea esta temporada –los adornos, los regalos– es pasajero, como una hoja al viento. Todo lo que permanece es la presencia de Mi pequeño Hijo conforme Él ocupaba el pesebre en Navidad. Sus oraciones y sacrificios son como la paja que sostiene Su frágil Cuerpo. La fe que ustedes tienen lo envuelve y le da calor, como lo hicieron los pañales."

"Participen de esta alegre festividad haciéndola una realidad en sus corazones por medio de su fe, oraciones y sacrificios."

Lean Lucas 2:6-7




Mientras se encontraban en Belén, le llegó el tiempo de ser madre; y María dio a luz a su Hijo primogénito, lo envolvió en pañales y lo acostó en un pesebre, porque no había lugar para ellos en el albergue.
RE: Latest messages are at Holy Love Ministries (www.holylove.org) and Ministerios del Amor Santo (www.amorsanto.com)