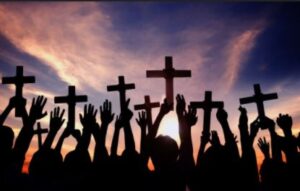 January 12, 2023
Once again, I (Maureen) see a Great Flame that I have come to know as the Heart of God the Father. He says: "Children, I have created this day and all its present moments towards My Good End. Every prayer which fills the present moment is a step towards My Victory. My Victory is peace in all hearts grounded in Holy Love.* Your 'yes' to Holy Love is your surrender to My Divine Will."

"Do not delay My Victory longer by choosing anything which opposes Holy Love. I have created you for this present moment-choice."

Read Galatians 6:7-10+




Do not be deceived; God is not mocked, for whatever a man sows, that he will also reap. For he who sows to his own flesh will from the flesh reap corruption; but he who sows to the Spirit will from the Spirit reap eternal life. And let us not grow weary in well-doing, for in due season we shall reap, if we do not lose heart. So then, as we have opportunity, let us do good to all men, and especially to those who are of the household of faith.

Read Ephesians 2:10+
For we are his workmanship, created in Christ Jesus for good works, which God prepared beforehand, that we should walk in them.

+ Scripture verses asked to be read by God the Father.
* For a PDF of the handout: 'WHAT IS HOLY LOVE', please see:https://www.holylove.org/What_is_Holy_Love

 

12 de Enero del 2023
Nuevamente veo una gran llama que he llegado a reconocer como el Corazón de Dios Padre. Dice: "Hijos, Yo he creado este día y todos sus momentos presentes para un buen fin. Cada oración que llena el momento presente es un paso a Mi victoria. Mi victoria es la paz en todos los corazones cimentados en el Amor Santo. Su 'sí' al Amor Santo es su rendición a Mi Divina Voluntad."

"Ya no demoren Mi victoria eligiendo alguna cosa que se oponga al Amor Santo. Yo los he creado para esta elección del momento presente."

Lean Efesios 6:10-17




Por lo demás, fortalézcanse en el Señor con la fuerza de su poder. Revístanse con la armadura de Dios, para que puedan resistir las insidias del demonio. Porque nuestra lucha no es contra enemigos de carne y sangre, sino contra los Principados y Potestades, contra los Soberanos de este mundo de tinieblas, contra los espíritus del mal que habitan en el espacio. Por lo tanto, tomen la armadura de Dios, para que puedan resistir en el día malo y mantenerse firmes después de haber superado todos los obstáculos. Permanezcan de pie, ceñidos con el cinturón de la verdad y vistiendo la justicia como coraza. Calcen sus pies con el celo para propagar la Buena Noticia de la paz. Tengan siempre en la mano el escudo de la fe, con el que podrán apagar todas las flechas encendidas del Maligno. Tomen el casco de la salvación, y la espada del Espíritu, que es la Palabra de Dios.

Efesios 2:10
Nosotros somos creación suya: fuimos creados en Cristo Jesús, a fin de realizar aquellas buenas obras, que Dios preparó de antemano para que las practicáramos.
RE: Latest messages are at Holy Love Ministries (www.holylove.org) and Ministerios del Amor Santo (www.amorsanto.com)