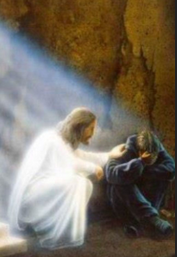 January 18, 2022
Once again, I (Maureen) see a Great Flame that I have come to know as the Heart of God the Father. He says: "Every present moment carries with it its own unique grace given as a means of salvation. This is important to remember, especially in times of suffering. No cross is permitted by Me apart from the matching grace to assist in perseverance. It is important to look for this grace and to realize that I am with you despite every difficulty. I send others into your life when you need help. I use your acceptance of each cross to guide others to salvation. I use your crosses to draw sinners to repentance."

"No soul escapes the cross for the cross is a means of salvation. Therefore, see your crosses as a sign that I am calling you towards Heaven. Be assured that My Hand is upon you when you suffer."

Read 2 Corinthians 1:3-6+

Blessed be the God and Father of our Lord Jesus Christ, the Father of mercies and God of all comfort, who comforts us in all our affliction, so that we may be able to comfort those who are in any affliction, with the comfort with which we ourselves are comforted by God. For as we share abundantly in Christ's sufferings, so through Christ we share abundantly in comfort too. If we are afflicted, it is for your comfort and salvation; and if we are comforted, it is for your comfort, which you experience when you patiently endure the same sufferings that we suffer.

+ Scripture verses asked to be read by God the Father.

 

18 de Enero del 2022
Nuevamente veo una gran llama que he llegado a reconocer como el Corazón de Dios Padre. Dice: "Cada momento presente lleva consigo la gracia única que se da como un medio de salvación. Es importante recordar esto, sobre todo en tiempos de sufrimiento. Yo no permito ninguna cruz sin la gracia correspondiente para ayudar a perseverar. Es importante buscar esta gracia y darse cuenta de que Yo estoy con ustedes incluso en cada dificultad. Yo envío a otros a sus vidas cuando necesitan ayuda. Utilizo su aceptación de cada cruz para guiar a los demás a la salvación. Utilizo sus cruces para atraer a los pecadores al arrepentimiento."

"Ningún alma se escapa de la cruz, pues la cruz es un medio de salvación. Por lo tanto, vean sus cruces como una señal de que Yo los llamo al Cielo. Tengan la seguridad de que Mi Mano está sobre ustedes cuando sufren."

Lean 2ª Corintios 1:3-6




Bendito sea Dios, el Padre de nuestro Señor Jesucristo, Padre de las misericordias y Dios de todo consuelo, que nos reconforta en todas nuestras tribulaciones, para que nosotros podamos dar a los que sufren el mismo consuelo que recibimos de Dios. Porque así como participamos abundantemente de los sufrimientos de Cristo, también por medio de Cristo abunda nuestro consuelo. Si sufrimos, es para consuelo y salvación de ustedes; si somos consolados, también es para consuelo de ustedes, y esto les permite soportar con constancia los mismos sufrimientos que nosotros padecemos.
RE: Latest messages are at Holy Love Ministries (www.holylove.org) and Ministerios del Amor Santo (www.amorsanto.com)