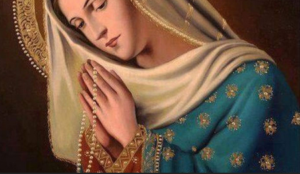 August 24, 2022
Once again, I (Maureen) see a Great Flame that I have come to know as the Heart of God the Father. He says: "Children, on the Feast of the Holy Rosary,* the Holy Mother** will speak. She will impart Her Blessing of Holy Love.*** I will impart My Triple Blessing.**** On that day only, Moses will impart his blessing which will enable people to find their way to Me amidst a secular world. All present will receive it."

"Heaven's strength will descend upon the people."

Read Psalm 9:9-10+




The LORD is a stronghold for the oppressed, a stronghold in times of trouble. And those who know your name put their trust in you, for you, O LORD, have not forsaken those who seek you.




+ Scripture verses asked to be read by God the Father.

 

24 de Agosto del 2022
Nuevamente veo una gran llama que he llegado a reconocer como el Corazón de Dios Padre. Dice: "Hijos, en la Fiesta del Santísimo Rosario, hablará la Santa Madre. Ella impartirá Su Bendición del Amor Santo. Yo impartiré Mi triple Bendición. Solo ese día, Moisés impartirá su bendición, la cual hará posible que las personas encuentren su camino a Mí en medio de un mundo secular. Todos los presentes la recibirán."

"La fuerza del Cielo descenderá sobre las personas."

Lean Salmo 9:9-10




El Señor es un baluarte para el oprimido, un baluarte en los momentos de peligro. ¡Confíen en ti los que veneran tu Nombre, porque tú no abandonas a los que te buscan!
RE: Latest messages are at Holy Love Ministries (www.holylove.org) and Ministerios del Amor Santo (www.amorsanto.com)